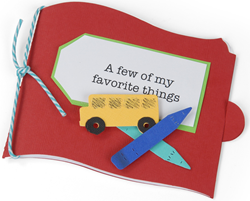 Lake Forest, CA (PRWEB) August 05, 2014
Educators and crafters alike have more creative learning options than ever with the newest release of classroom dies from die-cutting pioneer and market leader, Ellison® Educational Equipment Inc., and its sister craft brand, Sizzix®.
Thirty-one new steel-rule, birch wood SureCut™ dies and die sets promote reading and writing across an array of curriculum standards, including Common Core. Select innovative dies cut books that resemble everything from a crown and an elephant to a globe and a passport.
Nine exciting SureCut designs include a variety of shapes such as 3-D Mayflower boats, gumball machines and a picture frame of varying sizes. They're perfect for any creative curriculum, kids' crafts, library programs and vacation bible school needs. All SureCut dies are compatible with the Ellison® Prestige® Pro and Sizzix Big Shot™ Pro machines.
Also available for educators are three SureCut sets of animal, occupational and travel book designs. Four SureCut Common Core sets comprising 11-16 dies in each set feature interactive designs for mathematics, language arts and manipulatives across subject areas. The SureCut and Common Core sets are compatible in the Prestige Pro or the Big Shot Pro machines.
From the creative mind of new Ellison licensed designer Laura Kelly, eight new Sizzix Bigz™ dies and die sets join the Classroom Series. The assortment includes fun shapesters and pet shop animal designs from a wide variety of materials, including cardstock, fabric, foam and magnet for use in flashcards or crafts projects. Completing the collection are four additional Bigz and two Bigz XL dies featuring cell phone, Noah's ark animals and school spirit designs. Bigz and Bigz XL dies are compatible with the Ellison AllStar® SuperStar™, Ellison Prestige Pro and Sizzix Big Shot Pro machines.
"Students will enjoy reading and writing with our assortment of books, building their own Mayflower, creating a George Washington hat, exploring careers with community helper dress-ups and demonstrating school spirit with decorative dies for banners and celebrations!" said Saema Khwaja, Ellison Education Manager.
The Fall release of classroom dies is now available through authorized Ellison resellers and the Ellison education website. For more information, visit EllisonEducation.com.
About Ellison Educational Equipment Inc.
Since 1977, Ellison Educational Equipment, Inc. has been the recognized global leader of die-cutting machines, die-cutting products and shape-cutting accessories for the education market. The company was founded by an educator and has built its reputation developing high-quality, reliable die-cutting machines, products and accessories, coupled with innovative teaching principles that support all subject matters and grades K-12. For more information about Ellison Educational Equipment and its standards-based curriculum, please visit http://www.EllisonEducation.com.
# # #