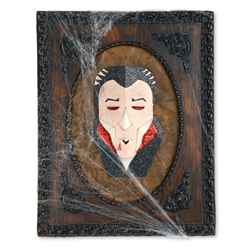 LAKE FOREST, Calif. (PRWEB) August 24, 2015
Adding further creative options for crafters this autumn, Sizzix® debuted a brilliant collection of Tim Holtz® Alterations™ die-cutting, embossing and punch products for his motorized Vagabond™ Machine last month at the Craft and Hobby Association 2015 Paper Arts+ Show.
Highlighting the product assortment are three wafer-thin, chemically-etched Thinlits™ die sets that create monster, vampire and zombie shapes to easily layer and assemble for frightfully fun Halloween projects.
Other Thinlits offerings include three Halloween sentiments sets that add ghoulish phrases such as "boo," "spooky" and "toil & trouble" in block, handwritten and script fonts, while another set die-cuts detailed fall foliage shapes for autumn-themed or other mixed-media inspiration.
Tim's latest Ghosts, Hocus Pocus, Jack-o-Lanterns and Skull Bigz™ dies cut thicker materials as diverse as chipboard, cork, fabric, grungeboard™, magnet and leather using its industry-first steel-rule cutting blade.
Tiny Bat, Cross & Shield Movers & Shapers™ Magnetic Insert Dies customize the Coffin Box Movers & Shapers™ L Base Die from an assortment of materials. Five Texture Fades™ Embossing Folders give papercrafting projects stylish bat, blood, cobweb, poison label and zigzag backgrounds.
Completing the release are two ergonomic paper punches that incorporate oak and maple leaf designs for altered art, cards, home décor, tags and more.
The August collection of Tim Holtz Alterations products is now available in local craft boutiques and major retail craft chains around the country. For more information, visit http://www.sizzix.com/home.
About Alterations
The Tim Holtz Alterations line of products is a creative assortment that brings together many mixed-media dies and embossing products for countless creative applications with the motorized Sizzix Vagabond Machine. Each element was specifically designed to work with Tim's other products to inspire paper crafters and mixed-media artists to discover their true creativity.
About Tim Holtz
Tim Holtz is the Creative Director for Ranger Industries, one of the leading manufacturers of innovative inks, paints and embossing products. Tim plays an integral part in the development and design of cutting-edge papercrafting products. Tim has teamed up with various key companies like Advantus, Tonic Studios, Sizzix, Stampers Anonymous and Core'dinations to bring unique products that work hand in hand. Learn more about Tim and connect to video tutorials and his blog at TimHoltz.com.
About Sizzix
Launched in 2001, Sizzix is a division of Ellison Educational Equipment Inc., the market pioneer and leader of die-cutting machines and accessories. Through its portfolio of die-cutting machines and die-cutting products, Sizzix leverages Ellison's 38 years of proven manufacturing and technology heritage to empower creativity among its customer base with new and innovative products. Sizzix is a recognized global brand that can be found in over 100 countries and in major and specialty retailers. For more information on Sizzix and its line of craft-inspiring products, please visit http://www.sizzix.com/home.