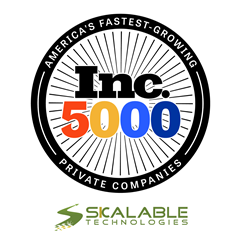 "Our company focus has always been about helping our clients take advantage of all the amazing technology that allows them to grow and succeed."
SACRAMENTO (PRWEB) August 12, 2020
Inc. magazine announced today that Skalable Technologies has been named to its 2020 Inc. 5000 list, the most prestigious ranking of the nation's fastest-growing private companies.
"We're excited about this prestigious honor," said Skalable Technologies CEO Sunil Nelabhotla. "But, most importantly, we're thrilled that it shows we're providing our clients with the technology services they need to thrive and be successful."
Founded in 2008, Skalable Technologies has set itself apart by providing fast, high quality, service that has helped the company earn partnerships with Microsoft, Oracle, Google, Amazon and most software and hardware providers. Their services include:

Skalable Technologies has a simple but powerful mission statement: enable companies to scale their operations by harnessing the power of the latest technologies. This statement, along with a strong set of core values has led to the company's growth.
"Making the Inc. 5000 was never really a goal," added Nelabhotla. "Our company focus has always been about helping our clients take advantage of all the amazing technology that allows them to grow and succeed."
Nelabhotla gives some of the credit for the company's ascent to the Inc. 5000 to specific business solution applications it has developed to solve customer problems such as Skalable Stream™, which takes multiple hours out of the AP process by automating the importing of accounts payable data, and managing, approving and processing vendor invoices.
The Inc. 5000 list started in 1982 and is the annual list of the fastest-growing privately-held companies in the United States. This listing ranks companies based on revenue over a 3-year period. The listing was released on August 12, 2020 and appears in the September 2020 issue of Inc. magazine.
"We'll celebrate this achievement here at Skalable Technologies," said Nelabhotla. "But we'll stay focused on the needs of our clients and help them succeed."
The company has been especially busy in the first half of 2020, helping its clients pivot to make requisite changes during the Covid-19 pandemic.
###
More about the Inc. 5000
The 2020 Inc. 5000 is ranked according to percentage revenue growth when comparing 2016 and 2019. To qualify, companies must have been founded and generating revenue by March 31, 2016. They had to be U.S.-based, privately held, for profit, and independent—not subsidiaries or divisions of other companies—as of December 31, 2019. (Since then, a number of companies on the list have gone public or been acquired.) The minimum revenue required for 2016 is $100,000; the minimum for 2019 is $2 million. As always, Inc. reserves the right to decline applicants for subjective reasons. Companies on the Inc. 500 are featured in Inc.'s September issue. They represent the top tier of the Inc. 5000, which can be found at http://www.inc.com/inc5000.
Find Skalable Technologies on LinkedIn.
Skalable Technologies and Skalable Stream™ are either registered trademarks or trademarks of Skalable Technologies in the United States and/or other countries. The names of actual companies and products mentioned herein may be the trademarks of their respective owners.