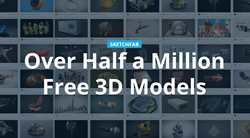 "3D models can support a diverse range of creative and commercial use cases, including VFX for film and TV, video games, still renders, AR & VR, education, and more."
NEW YORK (PRWEB) December 10, 2020
You can now discover and download more than 500,000 free 3D models on Sketchfab.
With so much incredible content uploaded to Sketchfab on a daily basis, the company continuously curates a collection of some of their favorite downloadable models. Free downloadable models also display a download icon on the top right corner of model cards.
Some notable examples of community members that make most of their 3D models available for download are Warkarma, The Cleveland Museum of Art, and Digital Life 3D.
Back in January of this year the company announced 300,000 free downloadable models on Sketchfab. Reaching this new milestone so quickly is a testament to the productivity of its members but also confirmation of the huge appetite for high-quality 3D models.
How do 3D models get reused?
3D models can support a diverse range of creative and commercial use cases, including VFX for film and TV, video games, still renders, AR & VR, education, and more. One of the best things about making 3D models available for re-use is seeing the myriad ways that they are reused.
For example, the scan of The Parade Shield of King Erik XIV of Sweden from The Royal Armoury ended up in the intro to a Post Malone video that has now been watched by hundreds of millions of people worldwide.
Creative Commons Licenses
All freely downloadable models on Sketchfab are shared under Creative Commons (CC) Attribution licenses so that everyone who downloads a 3D model from Sketchfab knows exactly how that asset can be reused. These CC licenses, which all require a proper artist attribution credit, provide value to the original creator who has foregone commercial gain in the spirit of collaborative creativity.
The company tries hard to make it easy for everyone who uses CC content from Sketchfab to provide proper attribution to model creators. In addition to a Help Center article on the topic, Sketchfab also recently added a button to the on-site download popup, allowing for easy copy-paste of the model's creator credit.
Sketchfab Free Importer Plugins
The many Sketchfab importer plugins make it easy to download 3D models directly into third party 3D and XR software, thanks to a download API. Sketchfab advocates for automatic creator attribution to be built into integrations so that a creator credit is easily found in the final published experience.
Other available licenses
Sketchfab also operates a marketplace for professionals looking to buy high-quality 3D models for VFX, game development, VR/AR, architecture, and animation. The viewer and 3D model inspector make it possible to look into every mesh and texture before purchasing. The models are available with Editorial and Standard licensing.
About Sketchfab, Inc.
Sketchfab is empowering a new era of creativity by making it easy for anyone to publish and find 3D content online. With a community of millions of creators who have published millions of models, we are the largest platform for immersive and interactive 3D.
Sketchfab's technology is integrated with every major 3D creation tool and publishing platform, and is compatible across every browser, operating system, desktop and mobile. Sketchfab also supports VR and AR on compatible hardware.
For more information: press@sketchfab.com