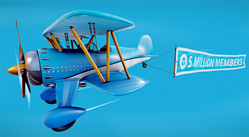 "The adoption of 3D has accelerated along with the shift to remote work and many companies are now realizing the full power of 3D"
NEW YORK (PRWEB) March 26, 2021
Sketchfab continues to grow at a rapid clip, announcing today that it has surpassed 5 million users as the platform celebrates its 9 year anniversary.
The adoption of 3D has accelerated along with the shift to remote work and many companies are now realizing the full power of 3D. The shift to digital workflows was started long ago, but 3D is becoming the backbone of many of those workflows when it comes to things like product development or modern creative productions. Be it for virtual photography, product design iteration, virtual showrooms, or to replace physical samples, 3D saves companies and brands time and money while allowing them to do things previously impossible. Many Fortune 500 companies are now hiring 3D artists to get up-to-speed on end-to-end digital solutions—and a lot of those artists have been using Sketchfab for years as their personal 3D portfolio.
Alban Denoyel, CEO and Co-founder of Sketchfab said: "Today, in at least half of the meetings we have with large companies, there is a Sketchfab advocate in the discussion, who perfectly knows our tools and gives a thumbs up to their team. Those artists are bringing the power of Sketchfab to their 10 or 100 teammates. You know who you are, and I want to thank you!"
3D creation tools are also making their way into mass-market use cases and becoming more widely adopted. Accessible VR creation tools mean that 5-year-old kids can express themselves in 3 dimensions without any prior training. And with LiDAR sensors coming to our smartphones—most notably in the latest iPhones—eventually, everyone will have a 3D camera in their pocket. Since the iPhone 12 launch five months ago, roughly a dozen 3D capture apps have been released in the App Store. Sketchfab is already natively integrated with 90% of these apps and is now the de facto place for sharing the content created with them.
Today there are many more people signing up to download free 3D content or buy content from the Sketchfab Store than to upload content on Sketchfab. This is a validation of Sketchfab's mission to make 3D accessible and to be the best place to both publish and find 3D content. While there are many places where visitors can find 3D content, Sketchfab has taken this mission a step further: it is the only place where people can thoroughly inspect 3D models before downloading or buying them. It's also the only platform that automatically converts every upload to standard formats like USDZ and glTF. Finally, it's the only place offering a robust API that lets you easily integrate a 3D content search bar into any 3D, VR, or AR application. This search bar for the 3D world is already live in production with great partners like Facebook, Adobe, and Mozilla, a growing list of 3D tools, game engines like Unity and Unreal, VR and AR apps, and even volumetric displays.
About Sketchfab, Inc.
Sketchfab is empowering a new era of creativity by making it easy for anyone to publish and find 3D content online. With a community of millions of creators who have published millions of models, we are the largest platform for immersive and interactive 3D. Sketchfab's technology is integrated with every major 3D creation tool and publishing platform, and is compatible across every browser, operating system, desktop and mobile. Sketchfab also supports augmented and virtual reality via the browser or the Sketchfab mobile app.
For more information: press@sketchfab.com.
Media Resources: Announcement image