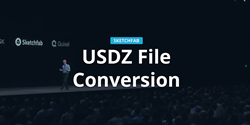 "We are excited to offer a great new way to leverage the massive Sketchfab library"
NEW YORK (PRWEB) March 25, 2020
3D creators using Sketchfab can now download both free Creative Commons licensed models as well as royalty-free models on the Sketchfab Store in the USDZ format. This makes over 400,000 USDZ files instantly available for download, the largest and most diverse library of its kind. Additionally, subscribers to Sketchfab Pro or above will have all their own 3D models privately available for download in this format too.
Sketchfab was featured in 2018 when Apple introduced the open file format, USDZ, which is optimized for sharing in various apps while retaining powerful graphics and animation features. Ever since, Sketchfab has been working to bring USDZ support to the platform.
The primary use for USDZ is with AR Quick Look —users just tap a link and can view a model in AR on compatible iOS devices. In fact, the company is working on bringing this exact functionality directly to the Sketchfab viewer soon. In the meantime, you can just tap the download button on any downloadable model while you're logged in to Sketchfab and select the USDZ download option to check it out in AR.
Alban Denoyel, Co-founder and CEO of Sketchfab said, "Our goal at Sketchfab has always been to make 3D content easily shareable and discoverable as widely as possible, and Apple's AR platform - enabled thanks to USDZ - has become a key part of the ecosystem we play in. We are excited to offer a great new way to leverage the massive Sketchfab library".
The resource will only continue to grow as every new 3D model that is added to the Store or set for free download on Sketchfab will be automatically converted to USDZ, and also makes Sketchfab the easiest way to convert all major 3D file formats to this cutting edge standard.
Explore Sketchfab's library of free USDZ files or visit the Sketchfab Store to buy 3D models in USDZ format.
About Sketchfab, Inc.
Sketchfab is empowering a new era of creativity by making it easy for anyone to publish and find 3D content online. With a community of millions of creators who have published millions of models, we are the largest platform for immersive and interactive 3D.
Sketchfab's technology is integrated with every major 3D creation tool and publishing platform, and is compatible across every browser, operating system, desktop and mobile. Sketchfab also supports augmented and virtual reality via the browser or the Sketchfab mobile app.
For more information: press@sketchfab.com