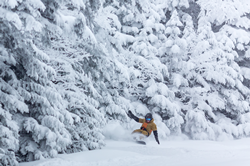 "Two good days of snowmaking after a thaw can do wonders," said Courtney DiFiore, communications manager at Killington Resort and Pico Mountain. "When Mother Nature does join forces ... we're able to switch gears and drop ropes just in time for a holiday weekend."
MONTPELIER, Vt. (PRWEB) January 16, 2020
As skiers and riders were focused joyfully on the fat snowflakes falling steadily across Vermont Thursday morning, mountain operations crews at the state's ski areas were keeping their eyes on something else – the mercury.
A January thaw last weekend – with record high temperatures throughout the northeast region – took its toll on the snowpack and left some questions about ski conditions. Those doubts were disappearing midweek, as bountiful natural snow and the return of ideal snowmaking temperatures set ski areas up with a dream scenario for the Martin Luther King Jr. holiday, according to the Vermont Ski Areas Association/Ski Vermont.
"Thankfully, the unseasonably warm temps didn't last long and a cold front moved in afterward," said Courtney DiFiore, communications manager at Killington Resort and Pico Mountain. "Two good days of snowmaking after a thaw can do wonders.
"When Mother Nature does join forces, as she did by dropping six inches and counting overnight, we're able to switch gears and drop ropes – just in time for a holiday weekend."
Snowmaking capabilities are at an unprecedented level in Vermont, where a collective $80 million has been invested over the past six years in the most efficient systems the industry has ever seen. Killington's system can cover 60 acres of terrain in a foot of fresh snow in the span of 24 hours. Its neighbor to the south, Okemo Mountain Resort, has 98 percent of its 667 skiable acres covered by a snowmaking system capable of turning up to 9,000 gallons of water per minute into fluffy, sublime snow.
"Okemo specializes in rapid recovery from weather events," said Communications Manager Bonnie MacPherson. "When posed with weather challenges, Okemo's seasoned mountain operations team ensures that the conditions will be as great as they can be."
State-of-the-art technology has made snowmaking more efficient than ever before. Whereas mountain ops crews of the past had to trudge uphill dragging hoses and lugging snow guns, many modern systems can be turned on remotely with the push of a button - or just turn themselves on as needed.
"Stowe's fully automated, high-efficiency snow-guns are outfitted with individual weather stations that allow for precise calibrations of air and water amounts for optimal snow output," said Jeff Wise, a spokesman for Vail Resorts' northeast properties including Stowe Mountain Resort. "Not only do these guns make more snow, the snow quality is much better and closer to the real thing."
Nothing beats the real thing, however. A snowstorm that began Wednesday night dropped more than six inches of snow across the Green Mountains by mid-morning Thursday. Skiers and riders began flooding social media with powder pics from across Vermont, reveling in the refresh provided by Mother Nature.
"Surface conditions are great, with fresh snow on top, providing soft, carveable turns which will only be improving over the course of the next few days," said Michael Chait, public relations director at Smugglers' Notch. "With multiple snowstorms incoming, we expect to re-open considerable groomed terrain and other natural snow trails beginning within the next 24 hours."
The weekend forecast called for even more natural snow overnight Saturday, setting up a perfectly timed powder day for Sunday's holiday skiers and riders. MLK Weekend is considered the second leg of the ski industry's "Triple Crown" – between the Christmas holiday and President's Week – and factors prominently into ski areas' overall success for the season.
"This snow comes at the perfect time after the tricky weather last weekend," said John Bleh, public relations and communications manager at Sugarbush resort. "We're expecting great conditions for what should be a busy weekend."
In the meantime, the mercury was forecasted to dip down through the optimal window for snowmaking Friday before moderating over the weekend. Andrew Kimiecik, marketing communications specialist at Stratton Mountain Resort, said effective snowmaking temperatures start at around 26 degrees with the wheelhouse for mountain ops crews occurring at around 8 degrees. Colder temps in Friday's forecast mean the snow guns will be blasting at or near peak efficiency ahead of the holiday weekend.
"I spend a lot of time looking into the forecast of temperatures, wind and other factors," said Kevin Booth, Snowmaking Manager at Stratton. "Many times, it's best to wait for ideal temperatures rather than take advantage of barely freezing and less-than-good snowmaking temps."
With a strong shot in the arm from Mother Nature in terms of both natural snow and ideal snowmaking temperatures, ski areas such as Mount Snow Resort – which has invested more than $33 million in snowmaking upgrades over the last three years – planned to deliver their holiday guests exactly the world-class skiing and riding experience Vermont is renowned for.
"This system was specifically designed with this type of situation in mind when our team wants to get out quickly and get the mountain back in great shape before a holiday weekend," said Jamie Storrs, spokesman for Mount Snow Resort. "When guests hit the slopes on Saturday, they'll be in for quite a surprise thanks to the hard work of our amazing snowmaking team here."
The Vermont Ski Areas Association/Ski Vermont is a nonprofit trade organization representing 20 alpine and 30 cross country ski areas across Vermont.