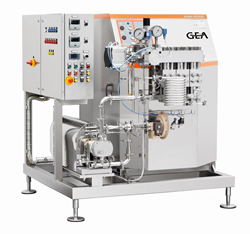 Bedford, New Hampshire (PRWEB) March 06, 2014
GEA Niro Soavi has developed full skid homogenizers which are able to meet all the fundamental requirements of hygienic design and quality. The company's experience in pharmaceutical application enables technical support in the preparation of a full documentation package for cGMP certification and in the selection of the right component materials (FDA approved gasket and 3A certified materials).
In biotechnology and pharmaceutical industries, the cell rupture process plays a critical stage. Although some substances are produced by cells or released by autolysis, the preparation of many others - including vaccines, therapeutics, diagnostics and enzymatic preparations - require the breaking of cells for the release of intracellular or subcellular material.
This high pressure homogenization, which allows cellular breakage, guarantees the control and the repeatability of results with no biological risks.
GEA Niro Soavi homogenizers carry out recirculation in a safe and cost effective manner with less product being discarded.
The company offers a wide range of homogenizers, perfect for nano particles treatment and also for nano dispersions, nano emulsions and cells rupture. Homogenizers can also be used to process healthy food, medical nutritional products, dairy products and juices.
There are table top units available (with a minimum flow-range of 9 l/h and a maximum pressure up to 2000 bar), pilot plant homogenizers (maximum flow-range 120 l/h and maximum pressure of 1500 bar) able to process viscous and abrasive products containing fibers.
Skid homogenizers are comprised of a feed pump, homogenizer, control panel board, heat exchanger, all necessary elements to be a turnkey solution and also include heavy duty casters to make transportation and handling easier.
About GEA Niro Soavi
GEA Niro Soavi is the global technology and market leader for high pressure pumps and homogenizers. Established in 1947 and part of the GEA Group – one of the leading engineering companies worldwide – GEA Niro Soavi maintains its leadership position through product innovation, reliability and local presence in order to satisfy customer expectations.