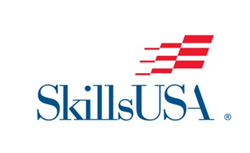 Because of our incredible partner support, National Signing Day will generate even more awareness that the skilled trades offer viable and rewarding career paths for all students
LEESBURG, Va. (PRWEB) April 22, 2021
SkillsUSA and its partners will celebrate SkillsUSA National Signing Day on May 4, honoring high school and college/postsecondary students who are dedicated to pursuing a career in the skilled trades. The nationwide event will recognize these students for their dedication to career readiness and their commitment to future career plans. Up to 100 SkillsUSA schools are expected to participate in the 2021 event — most virtually, but some holding in-person events — honoring CTE students across the country. This year's partners for SkillsUSA Signing Day are Home Depot, Klein Tools, 84 Lumber and NC3.
"SkillsUSA's National Signing Day salutes students who have expressed their commitment to a fulfilling and rewarding career in the skilled trades," says Chelle Travis, SkillsUSA's executive director. "Because of our incredible partner support, National Signing Day will generate even more awareness that the skilled trades offer viable and rewarding career paths for all students." SkillsUSA is committed to strengthening the skilled workforce. By empowering the next generation of workers to enter the trades, the organization can help close the skills gap while presenting robust career opportunities for young workers who enjoy challenging work that offers stability and long-term benefits.
On Signing Day, the students will be recognized at formal ceremonies at their schools by administrators, teachers, elected officials, SkillsUSA advisors, family and friends for making the decision to pursue their career in the skilled trades, a sector in high demand that continues to face an immense labor shortage. In a fashion similar to signing day events for student athletes who commit to a college or team, students will be applauded as they announce career plans and sign letters of intent for a job offer, apprenticeship or further technical training. Throughout the day, skilled trades supporters nationwide can participate virtually or in-person to share their encouragement for these future workers and these efforts will be amplified by media outreach. Home Depot, Klein Tools and 84 Lumber will each sponsor events. To learn more, go to: http://www.skillsusa.org/events-training/.national-signing-day/.
About SkillsUSA
SkillsUSA is a nonprofit partnership of education and industry founded in 1965 to strengthen our nation's skilled workforce. Driven by employer demand, SkillsUSA helps students develop necessary personal and workplace skills along with technical skills grounded in academics. This SkillsUSA Framework empowers every student to succeed at work and in life, while helping to close the skills gap in which millions of positions go unfilled. Through SkillsUSA's championships program and curricula, employers have ensured schools are teaching relevant technical skills, and with SkillsUSA's new credentialing process, they can now assess how ready potential employees are for the job. SkillsUSA has more than 372,000 annual members nationwide in high schools, middle schools and colleges, covering over 130 trade, technical and skilled service occupations, and is recognized by the U.S. Departments of Education and Labor as integral to career and technical education. With the addition of alumni, membership last year was 434,141. SkillsUSA receives in-kind and financial support from more than 650 national partners. They have served more than 13.6 million members since 1965. For more information: http://www.skillsusa.org.
# # #