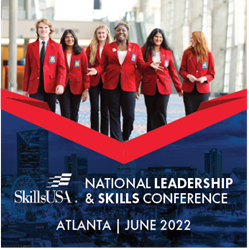 Kimberly is a SkillsUSA champion with a true passion for helping students develop their talents and leadership
ATLANTA (PRWEB) June 23, 2022
A Sauquoit, N.Y. career and technical teacher has been named the national SkillsUSA Advisor of the Year. She also received the SkillsUSA Hall of Champions award for dedicating her life to helping youth develop the career skills necessary to be successful in a changing world. The awards were presented to Kimberly Petronella, health careers instructor and coordinator of work-based learning at Oneida Herkimer Madison BOCES in New Hartford at the SkillsUSA National Leadership & Skills Conference Recognition Session on June 22 in Atlanta. Her legacy in SkillsUSA will continue far beyond her career.
Petronella has been an award-winning SkillsUSA advisor for 20 years. Petronella's chapter earned the SkillsUSA Gold Level in the Chapter of Excellence program for four consecutive years and in 2021 her chapter was a national Model of Excellence. In 2021 she was the SkillsUSA New York advisor of the year and was honored with the SkillsUSA Outstanding Career and Technical educator Award. Petronella knows CTE is a gateway to a bright and prosperous career because she once attended the same school where she now teaches. "My CTE experience provided me with the opportunity to explore and learn about my career of choice, and I am so proud that I have the ability to pay it forward to future generations of health care providers," Petronella says. Her high school experiences fostered a passion for learning, exploring and working outside the box to solve complex problems. Petronella has been a teacher of Health Occupations for 25 years. Prior to teaching, she worked as a nurse.
Petronella not only excels at her school, but she also serves the state as a SkillsUSA career cluster manager and contest chair for the annual regional and state conferences. At national conference, Petronella has assisted with training. Previously, she served on the SkillsUSA New York Board of Directors as both secretary and board chair. This year she took on the role of state officer team manager.
SkillsUSA created the Advisor of the Year award to recognize dedicated career and technical education instructors who serve as SkillsUSA advisors. Each state selects a winner, and then a regional winner is selected. Region 1 includes the states of Maine, Vermont, New Hampshire, Massachusetts, Rhode Island, Connecticut, New York, New Jersey, Pennsylvania, Delaware and Maryland plus the district of Washington, D.C. The top five regional finalists competed for SkillsUSA Advisor of the Year on June 21.
"Kimberly is a SkillsUSA champion with a true passion for helping students develop their talents and leadership," said Chelle Travis, executive director of SkillsUSA. "She supports quality programming for students built around the SkillsUSA Framework, which prepares them for further education or joining our nation's skilled workforce."
About SkillsUSA
Founded in 1965, SkillsUSA is a nonprofit partnership of students, teachers and industry that empowers its members to become world-class workers, leaders and responsible American citizens. The SkillsUSA Framework of Personal, Workplace and Technical Skills Grounded in Academics inspires work and life success for students while helping industry close the skills gap currently leaving millions of skilled trade jobs unfilled. Through SkillsUSA's career competitions program and curricula, employers ensure schools are teaching relevant technical skills, and with SkillsUSA's credentialing process, they can assess the career-readiness of their future employees. SkillsUSA's membership of more than 330,000 students and instructors encompasses middle schools, high schools and college/postsecondary institutions in every state and three U.S. territories. SkillsUSA programming covers 130 trade, technical and skilled service occupations, and is recognized by the U.S. departments of Education and Labor as integral to career and technical education. For more information: http://www.skillsusa.org.