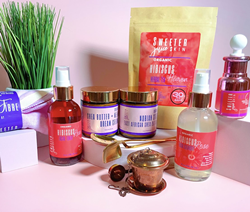 We have long been advocates of a holistic approach to skincare and our ethos aligns with Dr. Nancy.
SCOTTSDALE, Ariz. (PRWEB) December 16, 2022
Sweeter Juice Skin has long held the belief that turning to nature and using ancient indigenous ingredients provides the best outcomes for skincare. The brand is joining hands with a local pioneer in treating fine lines and wrinkles, Dr. Nancy Gaines-Dillard, to debut its first-of-its-kind inner and outer beauty system that uses plant extracts, such as hibiscus and moringa, for vibrant-looking skin.
The Botox and Bubbly event will take place at Dr. Nancy's Integrative Medicine's health and wellness center (10401 E McDowell Mtn Ranch Rd., Suite 100) on Dec. 17 from 3 p.m. to 6 p.m.
Participants will enjoy learning about the benefits of Botox offered at a special price and the proper aftercare solutions. Sweeter Juice Skin products will be showcased by award-winning esthetician "Yo Esti Aunti" of Sparkle and Shine Skincare, who is launching her own space at the location and who routinely uses the line.
Products launching at the event include:

Sweeter Juice Skin, a holistic skincare brand for inner and outer beauty for diverse skin tones, is founded by a local husband and wife team, esthetician Olunife Ofomata and medical doctor Dr. Johnson Ofomata.
"We have long been advocates of a holistic approach to skincare and our ethos aligns with Dr. Nancy," said Olunife. "Her validation of our aftercare treatment for Botox using our products is a testament to its efficacy. Dr. Nancy brings over 26 years of medical experience and her wellness spa is the perfect fit for what we offer. Dr. Nancy believes in living your best life now and we definitely feel the same way!"
Sweeter Juice Skin is dedicated to using the highest quality clean, vegan ingredients backed by science that are sustainably and ethically sourced. It effectively bridges the gap between inner and outer beauty. For more information, visit https://sweeterjuiceskin.com.
About Sweeter Juice Skin:
Sweeter Juice Skin is a melanin-inclusive, celebrated skincare line. They have pioneered effective and innovative products formulated with ancient indigenous ingredients backed by clinical research for diverse skin tones.