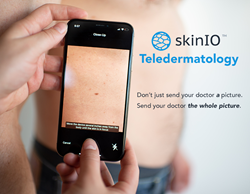 There is a need for high quality photos to be able to accurately treat patients
CHICAGO (PRWEB) April 16, 2020
The global COVID-19 pandemic makes clear the critical need for doctors to connect with patients virtually and today SkinIO, a digital mole-mapping system, announced SkinIO Teledermatology, a new platform that allows dermatologists to capture high-quality from patients to enable the best possible remote dermatological care. SkinIO Teledermatology can be used by itself as a store-and-forward solution or in combination with real-time telehealth appointments.
SkinIO Teledermatology turned to its history in mole-mapping and total body photography to design an app that guides patients to take the best possible photos that provide both standardized and contextual images for dermatologists to review.
"There is a need for high quality photos to be able to accurately treat patients, especially as patients continue to receive remote care because of the COVID-19 crisis" said Dr. Jean-Christophe Lapiere, MD, the founder and Chief Medical Officer of SkinIO and a leading expert in treating skin cancer. "I need to be able to see the mole or lesion that I am concerned about in greater detail than a video-consultation allows. This solution allows my patients to submit images of their skin through the SkinIO app, which I review to determine the necessary next steps. Then I follow-up either through the SkinIO app or through a real-time video interaction. This is the only way I feel that I am able to effectively treat my patients when I cannot see them face-to-face."
Even as millions of Americans are sheltering-in-place to avoid the spread of COVID-19, the need for regular medical care remains and skin cancer screenings are no exception. Dr. Lapiere notes that while many dermatological concerns can wait a few months, a concerning mole is something that needs to be addressed right away. Waiting even a few months can dramatically alter the prognosis for melanoma.
Telemedicine has been on the rise for years and is a natural fit with some medical specialties like dermatology, where exams focus on visual cues to make a diagnosis. SkinIO Teledermatology is a store-and-forward solution that allows physicians to view patient images at a time that is convenient for them, and follow-up with patients in an easy-to-use system.
SkinIO Teledermatology is a HIPAA-compliant system that is cloud-based and encrypted for security. While HIPAA violations are being waived during the COVID-19 health crisis, it is still prudent for health care providers to set themselves up with a system, like SkinIO, that is HIPAA-compliant so that they do not need to worry about switching systems when the emergency is over.
About SkinIO: The challenge of skin cancer is not that there isn't a cure; it is that we are not detecting skin cancer early enough in too many cases. At SkinIO, our mission is to make skin cancer screening and skin health monitoring accessible, whether at the doctor's office or in the comfort of home. SkinIO has developed an affordable total body photography solution that allows health care providers to offer automated, AI-enabled mole mapping in any exam room in their office. With contextual dermoscopic image linking and the ability to track changes over time, dermatologists are able to offer the best possible care for their patients. SkinIO has now expanded into teledermatology to enable more convenient patient-physician interactions. For more information, visit our website: https://skinio.com