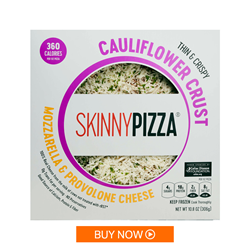 NEW YORK (PRWEB) November 19, 2020
SkinnyPizza pivots from in-dining restaurants toward an online sales model, with the help of Web Cola Media, and ensures the company can continue to satisfy the cravings of their loyal, health-conscious customers.
What's a company to do when they've got an in-demand product, but customers can no longer get to them? Taking the leap to online sales was the answer for SkinnyPizza Founder and Owner Joseph Vetrano. He and his team had already built a cult following among patrons of their restaurant locations. The ability of the brand to make a name for itself in the already saturated market of New York City is a testament to its connection with their customers. At a time when people have become increasingly discerning about the ingredients in the food they consume, SkinnyPizza had found a winning combination of authentic flavors and quality ingredients while boasting minimal calories.
With a handful of successful retail locations, SkinnyPizza had been eyeing an expansion to the online marketplace through SkinnyPizza Frozen. The idea behind SkinnyPizza Frozen was to bundle frozen multipacks of their most popular flavor combinations for customers to order at the convenience of their own home. The move would allow the company to reach more people across the country.
Then came COVID-19.
SkinnyPizza, and so many other restaurants, were forced to unexpectedly and suddenly close their doors. Many of the SkinnyPizza retail locations, including the flagship store in Manhattan were suddenly unable to operate. Although diners can still order from the Long Island location in Roslyn Heights, the closing of so many locations was a huge setback for the business.
Meanwhile, requests for SkinnyPizza still remained high despite these closures. The company was faced with the dilemma of how to keep giving their customers what they want. The decision to move away from the retail locations and focus more on the online sales was one that made sense given the uncertainty and future of dining in.
SkinnyPizza reached out to long-time collaborative partner Web Cola Media to devise a plan for revamping their e-commerce presence. Scott Pullo, Founder and CEO of Web Cola Media had already worked in-depth with the SkinnyPizza team on the original digital marketing and franchise marketing strategy but making a shift to focus on online sales in this new era would require a different plan. Without the draw of various retail locations to piggy-back off, Pullo knew that developing a more comprehensive web strategy would provide a solid base for supporting the e-commerce platform.
"Our original plan was to build an online presence to complement the restaurants as part of the franchise marketing strategy, but obviously that completely changed," Pullo explains when describing the initial client brief for SkinnyPizza. He goes on to say, "Web Cola Media has been around for two decades, so we know a thing or two about dealing with change. A big part of our success has been being able to adapt when necessary. We just happen to be doing that at warp speed right now."
For SkinnyPizza, the prescription for success in a pandemic has been to provide more brand-awareness of SkinnyPizza Frozen through SEO, focused content, social media marketing, and email marketing.
Thanks to this swift shift in marketing resources, SkinnyPizza remains immensely popular. One can understand the appeal- keeping the quarantine pounds at bay while still enjoying your pizza too. Touted as pizza with a healthy twist, SkinnyPizza first launched in 2010 featuring a preservative-free thin crust, all-natural cheeses, organic tomato sauce, and meat toppings free of hormones and antibiotics. The most popular offerings now include gluten free options and cauliflower crust. These and the original SkinnyPizza Frozen flavors are available to be shipped nationwide from https://www.webcolamedia.com/landing/press-release-skinny-pizza.html