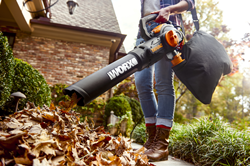 CHARLOTTE, N.C. (PRWEB) October 15, 2019
The new WORX TRIVAC 3-in-1 Blower/Mulcher/Vac not only functions as a blower, but easily converts into a mulching vac, by simply turning a dial and slipping on the collection bag. It is a prime example of how innovative products in this year's lineup from WORX remove leaves and recycle the mulch back into the landscape.
Other options in tackling fall clean-up to make the task easier and more efficient include the new WORX 40V TURBINE Blower, WORX 13-amp Leaf Mulcher and the WORX 26 Gallon Collapsible Leaf Bin.
Set aside the rake and think of other methods to clear leaves from the landscape. Consider a leaf blower or combination vac, but when making a decision, look beyond mph, because what's moving those leaves is the vac's cfm, or cubic-feet-per-minute, rating. Actually, it's the combination of mph and cfm that drives leaves airborne, so they can be herded and converted into mulch or loaded into recyclable bags for curbside pickup.
The WORX TRIVAC 3-in-1 Blower/Mulcher/Vac (WG512, $99.99) not only herds leaves, but vacuums them as well. The 12-amp blower/mulcher/vac's single-stage metal impeller shreds leaves and twigs to a 16:1 ratio. Simply stated, if a homeowner was filling recyclable bags by hand, he or she would fill nearly 16 bags versus a single bag with the TRIVAC.
The new TRIVAC features two-speeds with a maximum of 600 cfm. At low speed, the blower's sweeping action is ideal for clearing sidewalks, driveways, patios and decks, while high speed drives large volumes of leaves.
Leaf blowers and combination vacs are not just for fall. They can be used year-round for general cleanup chores. They're handy for clearing grass clippings from sidewalks, driveways and patios during mowing season or whisking away dirt and debris from the entry points to the house. They even make quick work of clearing out dust and debris from the garage, saving time and energy versus a broom and dust pan.
On the cordless side, the new WORX 40V TURBINE Blower (WG584, $179.99) develops a maximum air volume of 430 cubic feet per minute (cfm), making it one of the most powerful cordless blowers in the WORX line. The 40V TURBINE blower also is the first WORX blower with a high efficiency, maintenance-free brushless motor.
The lightweight, 7.3 lb., TURBINE blower features an axial fan motor that pulls air directly into the fan and immediately forces it out through the large diameter blower tube. The TURBINE blower has three speeds, as well as a turbo option.
The 40V TURBINE Blower includes two, 20V MAX Power Share 2.5 Ah lithium batteries, plus a 3 hr. dual-port charger.
What looks like a giant kettle on a stand is the WORX 13-amp Leaf Mulcher (WG430, $119.99). The 13 in. diameter Leaf Mulcher disposes of leaves and debris using a Flex-a-Line that shreds leaves and funnels them into a collection bag (not included) that's beneath the mulcher and rolled over the top of the frame. It will mulch 53 gallons of leaves per minute at an 11:1 mulch ratio. Contents of the collection bag can then be placed in garden beds, compost bins or collected for curbside pickup.
Also new, is a WORX 26 Gallon Collapsible Leaf Bin (WA0030, $34.99).This lightweight leaf container's design features a built-in spring mechanism making it collapsible for easy storage. The wide mouth bin is 18.5 in. diameter and 22" tall making it easy to load leaves and other yard debris. Unlike recyclable bags, the container always maintains its shape when moved from one location to another for leaf and debris pickup.'
One thing about leaves is that it's always easier to remove them when dry. Spread out clumps of wet leaves so they can dry faster before picking them up. Blowers and combination vacs have an easier time extracting leaves and turning them into mulch when they are dry.
Visit http://www.worx.com to see more lawn care solutions. WORX Power Share program is set up so that 20V batteries are compatible with more than 25 lawn and garden and DIY tools for convenience and cost savings.
Reach out to WORX social media links, including Facebook: https://www.facebook.com/worxus?ref=hl; Twitter: https://twitter.com/WORXTools; Pinterest: http://pinterest.com/worxtools and Instagram: @WORXTools