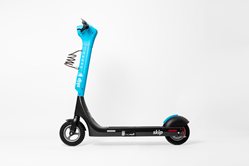 SAN FRANCISCO (PRWEB) August 14, 2019
Today, Skip announced S3, the first electric scooter engineered from the ground up to solve the challenges of an urban, shared micro-mobility fleet. The new design incorporates more than a year of rider feedback to offer riders a new level of stability, reliability and control. The S3 also addresses some of the key challenges of building a sustainable micromobility business.
"Skip S3 was designed to address the largest challenges in scooter mobility," said Sanjay Dastoor, CEO and co-founder of Skip. "The fleet scooters currently in-market were never designed for shared mobility, so while consumer interest is strong, the industry is stalled by scooter lifecycle, durability, safety and inefficiencies. S3 addresses each of these challenges. We designed it based off our experience operating in some of the world's most challenging transportation markets and our expertise building hardware."
Safer and Most Rider-Friendly: Greater Reliability and Stability
S3 (spec sheet here) brings a new level of stability, control and safety that will allow riders to confidently ride scooters in the bike lane. Highlights include:

Bigger wheels and a longer, wider deck: new sturdier design feels more stable and easier to control
Brighter headlight and taillights: scooters will be easy for cars and other vehicles to see; riders will more easily see and be able to navigate road conditions
More effective braking system with redundant foot brake
Rear-wheel drive and improved torque help navigate hilly landscapes, wet conditions and other realities of city riding
New safety diagnostics that drive how we monitor, repair and, if needed, dispose of our vehicles and vehicle components.
Swappable, Longer Range and More Durable Batteries: Better for Riders & Environment
S3 is designed to be recharged in the field, so riders can always rent one when they need it. The key innovation is Skip's swappable battery, which comes with a number of benefits to the rider, the company and the world:

The batteries themselves are better-suited for demanding fleet usage: they last 60 percent longer and can be submerged in 1 meter of water for up to 30 minutes
Vehicle-grade battery diagnostics alert Skip's operations team in case of damage
A swappable battery system significantly lowers Skip's carbon footprint; S3 can stay charged with battery replacements handled by light, electric-powered vehicles
City- and Fleet-Optimized with Modular Design and More
Optimizing a fleet of scooters to serve the last-mile transportation needs for residents and visitors requires not only hardware and software, but also operational inputs and costs, environmental impact, theft and vandalism, regulatory compliance and more. S3 addresses key issues with solutions including:

Modular architecture means each scooter component is designed to be easily repaired or replaced by trained Skip technicians at local maintenance facilities, reducing both cost and waste
Integrated Lock-To with patented theft detection ensures more responsible parking to the benefit of riders and non-riders alike
Onboard monitoring systems alert Skip's operations team to quickly recover, assess and replace or safely dispose of damaged components ensuring fleets on the street are in the best condition for riders
"S3 incorporates what we've learned over the past year to build a more sustainable, reliable and safer electric scooter," continued Dastoor. "Robust, modular architecture means that the scooter can be serviced if there is a problem with one part. Swappable batteries reduce miles driven by heavy vehicles, and local maintenance facilities are staffed by the communities they serve."
The new S3 scooters will appear in San Francisco for testing in the fall, followed by a broader consumer rollout starting in October. Riders will need to download the Skip app (iOS, Play) to rent them. Riders can sign-up here to receive updates and insider news on the S3.
To view S3 press kit, including video, photos and spec sheet, click here.
About Skip
Skip's mission is to energize cities by making mobility accessible to everyone. We believe this requires designing every aspect of a micromobility network from the ground up. This includes custom vehicle hardware, the software-defined fleet management system and ground operations for safety and recharging. Our success will make it easier for everyone to work, play and connect in their communities.