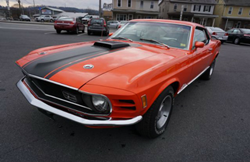 SCHUYLKILL HAVEN, Pa. (PRWEB) May 14, 2019
The Buy Here Pay Here dealership of Skook Auto Sales primarily stocks pre-owned vehicles with relatively recent model years that are reliable and affordable. However, a special and limited selection of stock within the Skook Auto Sales inventory includes several classic models. These authentic and well-kept vintage models are available for purchase to any interested drivers and collectors in the area.
Current classic models stocked in the Skook Auto Sales inventory come from the historic lines of the Chevrolet and Ford brands. There is a 1948 Ford F1 pickup truck with a Red exterior color, a 1962 Chevrolet Impala coupe with a Mint exterior color, a 1968 Chevrolet Chevelle coupe with a Mint exterior color, a 1970 Ford Mustang Mach 1 with a Calypso Coral exterior color, and a 1970 Chevrolet Chevelle convertible with a Red exterior color.
All five of these classic models have recently been added to the stock of Skook Auto Sales at the start of May 2019. Within the dealership's online inventory, additional information on each vintage vehicle can be found including a model's engine and transmission, as well as a selection of vehicle images. However, mileage statistics are unavailable on some models due to a vehicle's age and pricing is not listed online. Details on each model can be requested by contacting the staff of Skook Auto Sales.
Drivers looking for an authentic, vintage vehicle model from one of these all-American brands can browse our selection here at Skook Auto Sales. Other drivers looking to shop for a pre-owned model can consider the rest of our inventory. A Buy Here Pay Here dealership, Skook Auto Sales specializes in helping drivers finance a vehicle, even in the case of bad credit or no credit.
Drivers and shoppers in the Schuylkill County area looking to take advantage of any service at Skook Auto Sales should first contact the dealership's staff. Team members can be reached by phone at the number 570-910-2254. Further means of communication include email, online messaging, and visits to the dealership location. The Skook Auto Sales dealership is located at 312 Centre Ave., Schuylkill Haven, Pennsylvania 17972.