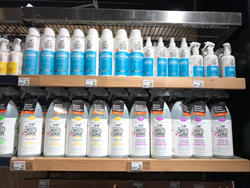 "It's exciting to see how our products resonate with retailers and customers all around the world," said Pete Stirling, president and COO of Skout's Honor. "Woolworths is the perfect partner...especially with their commitment to sustainability, responsibility and quality."
IRVINE, Calif. (PRWEB) November 14, 2018
Skout's Honor, the award-winning pet specialty brand known for its powerful, earth-friendly cleaning solutions and innovative patent-pending probiotic grooming line for pets, today announced that it is available in South Africa, via an exclusive retail partnership with Woolworths.
Woolworths is an award-winning retailer in the Southern Hemisphere that specializes in a unique blend of food, fashion, beauty, home ware, lifestyle products (i.e. pet specialty items) and financial services. With a passion for, and commitment to quality, Woolworths selected Skout's Honor as a premier brand for their pet category. A selection of Skout's cleaning and grooming products are now available in 72 of Woolworths stores across the South African region.
The products currently now available at Woolworths include:

CLEANING: Stain and Odor Remover, Urine Destroyer, Litter Box Deodorizer, Toy & Bowl Cleaner
GROOMING: Probiotic Shampoo, Probiotic Conditioner, Probiotic Daily-use Detangler and Probiotic Daily-use Deodorizer
The addition of South Africa to Skout's Honor's international presence marks another milestone for the brand as it continues on an exciting growth path to reach a broader global audience of pet parents. To date, the brand can be found in specialty retailers across the United States, Canada, Australia, New Zealand and The Philippines, with more regions coming soon.
"It's exciting to see how our products resonate with retailers and customers all around the world," said Pete Stirling, president and COO of Skout's Honor. "Woolworths is the perfect partner to introduce Skout's Honor to a new region of pet parents, especially with their commitment to sustainability, responsibility and quality."
Skout's Honor has established itself as an industry innovator by reinventing consumer expectations about how green-cleaning products can (and should) perform. Its variety of stain and odor products are fast-acting, powerful and also safe to use around pets, family and home. Further, the brand's patent-pending probiotic grooming products have introduced an entirely new way for pet parents to keep their animal looking and feeling their best, while preventing the most common skin problems from happening in the first place (itching, odor, irritation/redness, shedding).
For more information about Skout's Honor's Cleaning & Grooming products, visit http://www.skoutshonor.com. For national & international distribution and retail opportunities please contact Shannan Morlas, National Sales Manager, at shannan(at)skoutshonor.com.
About Skout's Honor
Skout's Honor is an award-winning company based in Irvine, Calif. that offers BETTER, FASTER, STRONGER green cleaning solutions to everyday pet stain and odor problems and a patent-pending line of Probiotic Skin Care/Grooming products for pets. Founded by a team of animal lovers and proud pet owners, the company created its "Skout's Paw Pledge," and donates a day's worth of food for a shelter animal in need with every product sold. For more information on the products and for specific retailers, please visit SkoutsHonor.com