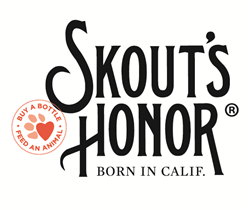 "We've successfully generated more than 3.5 million donated meals for rescue animals through our Paw Pledge program – and that amount continues to grow exponentially with the support of our retail partners and loyal customers." - Jenny Gilcrest, VP of Marketing for Skout's Honor
IRVINE, Calif. (PRWEB) July 31, 2019
Skout's Honor, the award-winning pet specialty brand that has become known for its environmentally and socially-conscious stain and odor products and topical probiotic grooming solutions, today announced that it will amplify its Skout's Paw Pledge Program (buy a bottle, feed an animal) for two days: August 1 & 2, 2019.
Instead of offering a day's worth (3 meals) of food with every product sold to a rescue animal (via charitable partner organizations Greater Good & Rescue Bank), Skout's Honor will increase its donations to a WEEK'S worth (21 meals) per every product sold. Customers can support this giving-back promotion by purchasing Skout's Honor products online at SkoutsHonor.com Amazon.com, Chewy.com, Petco.com – or at their local pet specialty retailer – during the designated two-day time period which begins at 1:00 a.m. EST on August 1 and ends at 11:59 p.m. PST on August 2.
"We're very proud of the positive impact that we have been able to achieve with the support of our retail partners and our loyal customers," said Jenny Gilcrest, VP of Marketing for Skout's Honor. "Together, we've successfully generated more than 3.5 million donated meals to date for deserving rescue animals – and that amount continues to grow exponentially with special promotions like this one."
The Skout's Paw Pledge is an ongoing initiative and core tenant of the company's mission. To learn more about the impact of Skout's Honor's Paw Pledge Program – watch this brief informational VIDEO HERE.
About Rescue Bank
Rescue Bank operates on the national food bank model, serving community-based animal welfare groups that typically lack access to resources. Rescue Bank recognizes that these smaller, less-visible groups represent a substantial portion of America's animal rescue resource. http://www.rescuebank.org
About GreaterGood.org
GreaterGood.org is a 501(c)(3) charitable organization that works to improve the health and well-being of people, pets, and the planet. It accomplishes this mission by partnering with charitable organizations and administering programs worldwide that address hunger and illness (particularly in women and children), promote education and literacy, feed and care for rescued animals in shelters and sanctuaries, and protect wildlife and restore the environment. http://www.greatergood.org
About Skout's Honor
Skout's Honor is an award-winning company based in Irvine, Calif. that offers Better, Faster, Stronger cleaning solutions to everyday pet stain and odor problems and a patent-pending line of Topical Probiotic Skin Care/Grooming products for pets. Founded by a team of animal lovers and proud pet owners, the company created its "Skout's Paw Pledge," and donates a day's worth of food for a shelter animal in need with every product sold. For more information on the products and for specific retailers, please visit SkoutsHonor.com