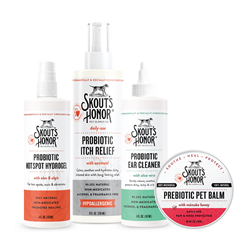 "Our approach to wellness is always about treating the root cause and underlying problem of a pets' health issue, rather than treating the symptom with a quick-fix solution," said Jenny Gilcrest, VP of Marketing for Skout's Honor. "Prevention is our ultimate goal."
IRVINE, Calif. (PRWEB) February 21, 2020
Skout's Honor, the award-winning pet specialty brand known for its environmentally and socially-conscious cleaning and grooming products, today announced that it has expanded into a new pet Wellness category. The products will make their debut at the American Pet Product Association's Global Pet Expo in Orlando Florida, February 26-28, 2020.
Skout's Wellness line includes a Probiotic Ear Cleaner, Probiotic Itch Relief spray, Probiotic Hot Spot Hydrogel and Prebiotic Pet Balm – with active ingredients including topical probiotics, prebiotics, Manuka honey, aloe, oatmeal and algin.
"Our approach to wellness is always about treating the root cause and underlying problem of a pets' health issue, rather than treating the symptom with a quick-fix solution," said Jenny Gilcrest, VP of Marketing for Skout's Honor. "Pet parents want something that will provide fast relief to comfort their animal, but they're also seeking products that will help prevent future problems from occurring – and prevention is our ultimate goal."
Skout's Honor's NEW Natural Wellness Line Includes:
Probiotic Ear Cleaner (4oz), MSRP $9.99

Gently cleans, soothes and protects dirty, itchy and irritated ears
Restores harmony and helps stabilize the ear's natural microbiome
Probiotics keep working for up to 2 weeks after application, to naturally defend the body against bad bacteria (that causes itch, odor, infection)
Alcohol and fragrance-free, non-medicated
Probiotic Itch Relief Spray w/Oatmeal (8oz), MSRP $14.99

Naturally calms, soothes and hydrates itchy, irritated skin
Offers comfort and long-lasting relief for pets who suffer from chronic skin irritations
May be used as needed or as a daily preventative spray
Probiotic Hot Spot Hydrogel (4oz), MSRP $19.99

100% natural and non-medicated
Soothe, heal and protect wounds, including hot spots, abrasions, lacerations, burns and irritated skin.
Adheres to the affected area to moisturize, prevent potential infection and promote optimal healing conditions with the natural benefits of aloe vera, hickory bark extract, alginate and topical probiotics
Prebiotic Pet Balm w/Manuka Honey (2oz tin), MSRP $16.99

Daily-use paw & nose protector
Provides instant relief and ongoing protection for paws, noses and more
100% Natural & Anti-microbial
Skout's Honor is exhibiting at Global Pet Expo in booth #1375. In addition to featuring its new Wellness line, the brand will also be prominently showcasing its full selection of Cleaning and Grooming products. For sales and distribution information, please contact Shannan Morlas at Shannan@skoutshonor.com.
About Skout's Honor
Skout's Honor is an award-winning company based in Irvine, Calif. that offers super-natural cleaning, topical probiotic grooming and preventative wellness products for pets. Founded by a team of animal lovers and proud pet owners, the company created its "Skout's Paw Pledge," and donates a day's worth of food for a shelter animal in need with every product sold. For more information on the products and for specific retailers, please visit SkoutsHonor.com