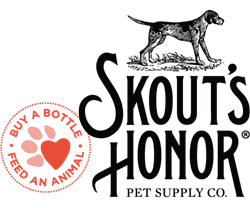 "[We are] always looking to add brands we consider to be the best in their category...in Skout's Honor, we have found exactly that." - Rob Mellem, Owner at Packer Mellem Sales.
OCEANSIDE, Calif. (PRWEB) November 06, 2020
Skout's Honor, the leading pet specialty brand known for its environmentally and socially-conscious cleaning, probiotic grooming and wellness products, today announced that it has added Packer Mellem Sales, an independent rep group specializing in the pet industry, to its sales team. The new partnership is designed to help manage increased placement and ongoing growth for the Skout's Honor brand nationwide.
"We've seen incredible growth this year brandwide – in our super-natural cleaning, probiotic grooming, wellness and specialty categories," said Shannan Morlas, director of sales for Skout's Honor. "Now more than ever before, pet parents are seeking natural, safe and highly effective pet essentials to keep their pets (and their entire households) clean, happy and healthy. Adding Packer Mellem accelerates our ability to keep up with the escalating demand that we are experiencing from pet specialty retailers, and will also allow us to quickly reach new customers nationwide."
With a commitment to building relationships with the retailers they serve and a special focus on ongoing product education and training, Packer Mellem has built a strong reputation within the pet specialty industry. Some other pet brands represented by the firm include Northwest Naturals, Austin and Kat, Plato Pet Treats, Grandma Lucy's and Tall Tails, among others.
Rob Mellem, Owner of Packer Mellem Sales, said that the company takes great care and pride in the brands they choose to represent. "Packer Mellem is always looking to add brands that we consider to be the best in their category," said Mellem. "In Skout's Honor, we have found exactly that…my team and I are excited to be part of (and add to) the future success of this exciting brand."
Skout's Honor products are exclusively available in thousands of pet specialty retailers across the United States, Canada, United Kingdom, Chile, India, New Zealand and South Africa and soon-to-be-more countries.
For sales and distribution opportunities, please contact Shannan Morlas at Shannan@skoutshonor.com.
About Skout's Honor
Skout's Honor is an award-winning company based in Oceanside, Calif. that offers super-natural cleaning, topical probiotic grooming, preventative wellness and safer sanitizing products for pets. Founded by a team of animal lovers and proud pet owners, the company created its "Skout's Paw Pledge," and donates a day's worth of food for a shelter animal in need with every product sold. For more information on the products and for specific retailers, please visit SkoutsHonor.com.