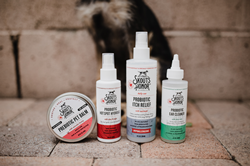 Skout's Honor's scientifically-proven and Veterinarian-approved Probiotic Wellness Line has been singled out as a winner within the Dog & Cat Healthcare Category for 2020.
OCEANSIDE, Calif. (PRWEB) December 03, 2020
Skout's Honor, the environmentally and socially conscious pet specialty brand known for its stain and odor solutions and innovative probiotic grooming and wellness products, today announced that it has won a 2020 Pet Industry Recognition Award by Pet Business Magazine for its life-changing Probiotic Wellness line for pets.
The 19th annual Pet Business Industry Recognition Awards celebrate the best products within the pet care category and Skout's Honor's Probiotic Wellness Line has been singled out as a winner within the Dog & Cat Healthcare Category. The full list of winners are also recognized in the December issue of Pet Business Magazine.
Skout's line of scientifically-proven and Veterinarian-approved Probiotic Wellness products launched earlier this year, and includes:
Probiotic Ear Cleaner (4oz), MSRP $9.99

Gently cleans, soothes and protects dirty, itchy and irritated ears
Restores harmony and helps stabilize the ear's natural microbiome
Probiotics keep working for up to 2 weeks after application, to naturally defend the body against bad bacteria (that causes itch, odor, infection)
Alcohol and fragrance-free, non-medicated
Probiotic Itch Relief Spray w/Oatmeal (8oz), MSRP $14.99

Naturally calms, soothes and hydrates itchy, irritated skin
Offers comfort and long-lasting relief for pets who suffer from chronic skin irritations
May be used as needed or as a daily preventative spray
Probiotic Hot Spot Hydrogel (4oz), MSRP $19.99

100% natural and non-medicated
Soothe, heal and protect wounds, including hot spots, abrasions, lacerations, burns and irritated skin.
Adheres to the affected area to moisturize, prevent potential infection and promote optimal healing conditions with the natural benefits of aloe vera, hickory bark extract, alginate and topical probiotics
Prebiotic Pet Balm w/Manuka Honey (2oz tin), MSRP $16.99

Daily-use paw & nose protector
Provides instant relief and ongoing protection for paws, noses and more
100% Natural & Anti-microbial
For more information about Skout's Honor's award-winning pet essentials, visit http://www.skoutshonor.com. For national & international distribution and retail opportunities please contact Shannan Morlas, National Sales Manager, at shannan@skoutshonor.com.
About Skout's Honor
Skout's Honor is an award-winning company based in Oceanside, Calif. that offers everyday pet essentials. Founded by a team of animal lovers and proud pet owners, the company created its "Skout's Paw Pledge," and donates a day's worth of food for a shelter animal in need with every product sold. For more information on the products and for specific retailers, please visit SkoutsHonor.com.