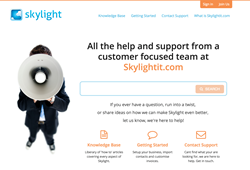 "Altogether a great productivity suite.. keep all your productivity requirements under one virtual roof. This really is a one-stop professional collaboration & utility shop" — BBC
London, UK (PRWEB) February 18, 2015
Skylight business management tool for team collaboration has today announced launch of its new Support Site at support.skylightit.com.
Customer focused team at Skylightit.com offers business collaboration software that covers project management, tasks and time billing and online invoice software facilitating simple business collaboration features. Small businesses to freelancers can organise and streamline business data that would normally be sitting on various excel sheets and in emails.
Businesses need software to stay ahead of the game, but learning new systems is always difficult. It's further exacerbated by a shortage of time and a reluctance by teams to change old ways. "We hope the new support site will help make the learning and implementation process quicker and even easier. And we're always on hand to offer technical support on the phone if a user gets stuck. After all, SKYLIGHT is all about improving productivity." explains founder Taimur Khan.
The new support site focuses on clean design, readability and accessibility. All the old articles have been rewritten and updated, with a large number of new articles scheduled to be published over the coming weeks.
Founder Taimur Khan is an experienced entrepreneur having taken his previous company from zero to multi-million turnover to exit. He was looking for an affordable cloud based management and productivity tool to help small businesses and freelancers collaborate - and couldn't find one that covered all the bases; and so SKYLIGHTit.com was born.
"If you add the time it takes to find some relevant project information in your email, cross reference invoice details, tasks, time billing information etc. And multiply time lost across your whole business and staff to do this by the average cost per hour of running your business operation. You would come to a staggering number. That is the core benefit of utilising Skylight suite of business apps." - Taimur Khan - Founder CEO
The comprehensive business tools offered by Skylight are boosted by multiple language support, making this complete business management app available in Spanish, German and many others languages. Translated by existing customers from UK,USA, Germany and Spain.
New business can register for the service for free, and upgrade to higher packages that offer more projects and users. The pricing starting at $15/month to $175/month for the highest package, Skylight is priced to be an affordable business software.
Editors Notes:
Founder Taimur Khan is available for interview, comment and articles.
For media enquiries please contact Chantal or Sophie at Panpathic Communications - Chantal(at)panpathic.com / 020 8544 0091 or Sophie(at)panpathic.com / 07815 860 082
About Skylight
Based in London, U.K, Skylight (http://skylightit.com/) is the complete, cost-effective, user-friendly, productivity tool to assist businesses. A all-in-one web app with an aim to simplify the complex administrative tasks such as project, task, time management and collaboration for businesses. Globally recognised with a user base of more than 9000 - Fully integrated with Google Docs and now Paypal, Skylight provides one centralised platform for users to store and share their documents, spread sheets and multimedia files, while managing all of their contacts and calendars.