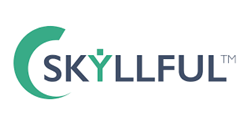 PLANO, Texas (PRWEB) May 18, 2021
Skyllful, a leading provider of a mobile digital adoption platform that helps workers on the front lines use mobile apps and devices more efficiently and effectively, today announced it was awarded the top prize in the blog writing category at the 2021 Communicator Awards, an international creative awards program. It is the second award this year for Skyllful's company blog; in January, Skyllful won a Gold 2021 AVA Digital Award for excellence in web writing.
"It's a tremendous honor to be recognized by the Communicator Awards," said Justin Lake, CEO of Skyllful. "We are a 'digital first' company in the business of educating workers. We launched our blog to be a valuable resource to help companies understand that digital adoption for frontline workers isn't always easy and that the results of poor mobile adoption has real business implications. This award validates our commitment to providing our customers and their most essential employees with a more effective experience for learning on their mobile apps and devices."
Skyllful's award-winning Mobile Digital Adoption Platform provides on-device, on-demand, scenario-based app simulations that ensure frontline mobile workers are prepared and proficient with their mobile apps and devices. It is the only digital adoption platform built specifically for the learning needs of frontline mobile workers. Designed for project managers, change management leaders and IT leaders, Skyllful's platform helps with both new digital deployments and onboarding of new hires by providing simulation training, ongoing education and real-time support. Proven to increase productivity and maximize investments in technology, Skyllful's platform has been recognized with a 2021 BIG Innovation Award, presented by the Business Intelligence Group, and a Gold 2021 Stevie Award for Best Corporate Learning/Workforce Development Solution.
The Communicator Awards are an annual awards program that honors excellence in advertising, marketing, corporate communications and public relations. The competition is judged and overseen by the Academy of Interactive and Visual Arts (AIVA). This year's program received more than 6,000 total entries. Winners who received this year's highest honor, the Award of Excellence, include PepsiCo, Forbes, BoxMedia, Microsoft, Code Red, GmbH, Comcast and Disney Creative Studios.
About Skyllful
Skyllful is a leading provider of a mobile digital adoption platform that helps workers on the front lines use enterprise mobile apps more efficiently and effectively in their delivery of essential products and services. With deep expertise in leading mobile technology and best practice field deployments as well as a leadership team with decades of experience working with large mobile workforces and applications, Skyllful provides on-device, on-demand training through scenario-based simulations. Whether a company is deploying a new mission-critical workforce app or seeking to improve its workforce engagement with existing apps, the Skyllful platform is easy to use, intuitively designed and proven to increase productivity and deliver greater returns on investment in technology. Skyllful is based in the greater Dallas/Ft. Worth area of Texas. For more information, visit https://www.skyllful.com and follow on Twitter @Skyllfulco.