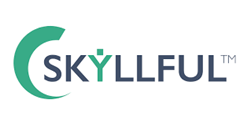 PLANO, Texas (PRWEB) November 16, 2021
Skyllful, a leading provider of a mobile digital adoption platform that helps workers on the front lines use mobile apps and devices more efficiently and effectively, today announced the availability of its platform on Microsoft Azure Marketplace, an online store for enterprise cloud software applications and services for use on Microsoft Azure.
Organizations with large frontline workforces interested in using Skyllful's mobile DAP to ensure technology adoption by their frontline workers can now access the platform on Azure using a pre-existing agreement with Microsoft. Using Skyllful's mobile DAP will help Microsoft Azure customers deploy new mission-critical workforce apps and improve its workforce engagement with existing apps.
"We are excited to offer our award-winning platform to Azure Marketplace customers and subscribers," said Justin Lake, co-founder and CEO of Skyllful. "Frontline workers make up a large portion of the U.S. workforce and are often overlooked when it comes to new technologies. Azure Marketplace is a powerful channel for cloud solutions and our listing is a significant step toward ensuring digital adoption by this category of workers who keep our economy running, especially during the pandemic."
Today, many businesses face a significant skilled labor shortage, so hiring employees new to specific organizations and industries is inevitable. At the same time, according to a 451 Research study, 42% of new employees take six months or longer to add value at work, while 12% take a year or more. By providing in-app simulation training, ongoing education, and real-time support, which are key features of Skyllful's platform, the adoption of mission-critical technologies to do their jobs more efficiently by the frontline workforce will dramatically improve.
Skyllful's comprehensive, SaaS-based mobile digital adoption platform (MDAP) helps field operations leaders and professionals in change management and learning & development drive faster adoption of mobile technology by its frontline workers. Skyllful's platform has been recognized this year with three major industry awards for its innovation and excellence: a 2021 SaaS Award for Best SaaS Product for Learning Management or Training; a Gold prize for Best Corporate Learning/Workforce Development Solution at the 19th Annual American Business Awards®; and a 2021 BIG Innovation Award from Business Intelligence Group.
"Through Microsoft Azure Marketplace, customers around the world can easily find, buy, and deploy partner solutions they can trust, all certified and optimized to run on Azure," said Jake Zborowski, General Manager, Microsoft Azure Platform at Microsoft Corp. "We're happy to welcome Skyllful's solution to the growing Azure Marketplace ecosystem."
About Skyllful
Skyllful is a leading provider of a mobile digital adoption platform that helps workers on the front lines use enterprise mobile apps more efficiently and effectively in their delivery of essential products and services. With deep expertise in leading mobile technology and best practice field deployments as well as a leadership team with decades of experience working with large mobile workforces and applications, Skyllful provides on-device, on-demand training through scenario-based simulations. Whether a company is deploying a new mission-critical workforce app or seeking to improve its workforce engagement with existing apps, the Skyllful platform is easy to use, intuitively designed and proven to increase productivity and deliver greater returns on investment in technology. Skyllful is based in the greater Dallas/Ft. Worth area of Texas. For more information, visit https://www.skyllful.com and follow on Twitter @Skyllfulco.