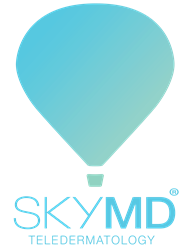 SAN DIEGO (PRWEB) March 10, 2020
SkyMD today announced a new partnership with Dermadry, a Canadian-based medical device manufacturer. American patients now have an easier solution for obtaining home-based hyperhidrosis treatments. The U.S. Food and Drug Administration (FDA) has cleared an innovative new device for the treatment of hyperhidrosis (excessive sweating) in the United States.
"We are thrilled to report our expanded relationship with Dermadry, and we are so glad they obtained FDA clearance to compete in the U.S. market," said Bart Calame, SkyMD's CEO. "While our doctors ultimately determine the best treatment regimen for their patients, we are very excited that our doctors prescribing of Dermadry's iontophoresis device has now been streamlined. We accept a wide range of health insurances, most of which cover the costs associated with this new device."
As a national online dermatology platform, SkyMD will use its access to the device to prescribe hyperhidrosis treatments to their patients, among other treatment modalities. The device, created by Dermadry, has been available in Canada since receiving its medical device license from Health Canada in October 2018. The latest news of the FDA's clearance paves the way into U.S. homes, as the pre-sale of the device was made available to U.S. residents on the 26th of February, 2020.
Hyperhidrosis: The Silent Handicap
Hyperhidrosis is a medical condition that causes sweating 4-5 times in excess of the body's thermoregulation needs. It is reported to affect over 5% of the American population or 1 in 20 Americans. This prevalence is thought to be a much lower figure than the actual number of people affected, as hyperhidrosis is a misunderstood and underreported condition. Those affected often do not seek medical attention and frequently live their life in discomfort and embarrassment due to shame or simple lack of awareness, despite hyperhidrosis being a highly treatable condition.
The Solution: The Anti-Sweat Device
Iontophoresis is a natural, non-invasive, drug-free, and needle-free treatment option for hyperhidrosis patients. Dermadry offers an all-in-one device that has been developed to target and treat excessive sweating of the hands, feet, and underarms.
This home-use new device facilitates treatment by allowing patients to treat excessive sweating from their home using only tap water, and create their own treatment schedule to fit their lifestyle and needs. It eliminates the need for painful and invasive procedures, as well as recurrent costs and clinic visits.
Dermadry's Launch in the USA
To celebrate Dermadry's launch in the United States, the Canadian company has partnered with U.S. telemedicine provider SkyMD, which enables patients to receive a medical diagnosis and prescription from a board certified dermatologist online. As all iontophoresis machines require a prescription in the U.S., SkyMD's service enables users to obtain a dermatology consultation online, making it easier and more convenient than ever before to get the required prescription. Dermadry is excited to be entering the U.S. market and helping residents across the country obtain the dryness, comfort, and confidence they deserve.
###
About SkyMD
SkyMD is a private U.S.-based telemedicine company headquartered in San Diego, CA. Established in 2018, they provide national dermatological services to patients in all 50 U.S. States. Committed to improving patient access to quality healthcare, they diagnose and educate the public on various skin conditions and improve the lives of millions of affected patients worldwide. Learn more at SkyMD.com and on social media @skymd.
Media Contact:
For any media inquiries, please contact press@skymd.com.