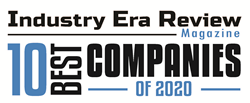 ART doesn't just provide an efficient way to perform the month-end close, it's also focused on helping the accountants produce high-quality work.
NEW YORK (PRWEB) December 30, 2020
SkyStem LLC, a leading provider of automated month-end close and account reconciliation software, is honored to being named "10 Best Companies of 2020" by Industry Era Magazine. Every year Industry Era offers their readers an insight into some of the world's finest businesses. Ranging from small traders and solo practitioners to multi-national conglomerates, their winners are handpicked by their expert judges because of their commitment to client service and excellence in their respective sectors. The honor generates public recognition of the achievements and positive contributions of organizations and working professionals worldwide, it takes into account accomplishments in all aspects of work life.
"ART doesn't just provide an efficient way to perform the month-end close, it's also focused on helping the accountants produce high quality work," said Shagun Malhotra, CEO and Founder of SkyStem. "ART was designed to meet four criteria: robust in features, easy to use, fast to implement and reasonably priced."
Today, fintech companies are pushing for paperless accounting departments and faster results. SkyStem has been recognized for automating vital financial tasks such as the month-end close process and account reconciliations. Industry Era specifically recognized SkyStem's ability to boost efficiency and profitability for its customers in order to help them excel against their peers.
To see the complete article and for more information about SkyStem, please click here.
About Industry Era
IndustryEra is one of the leading media brand offering technology-based magazines about the latest occurrences in various verticals. The magazine has a keen editorial focus on variation in technology, management, world-changing ideas, creativity, and perspective of established leaders. Printed for and about the various progressive industry leaders, IndustryEra encourages readers to think extensively, lead with a mission, embrace change, and shape the fate of the business. Dismantling the old practices of the industries, IndustryEra is all set out to record how transforming organizations build and fight to highlight new trade practices. The magazine also wants to display how the companies and individuals are revolutionizing the future and rediscovering the business.
About SkyStem LLC
Headquartered in the heart of New York City, SkyStem delivers a powerful month-end close solution for organizations seeking to streamline their financial processes. The company's flagship solution, ART, is an enterprise technology that helps CFOs and Controllers shorten the month-end close and the time to issue financials by automating balance sheet reconciliations, managing month-end tasks, performing flux and variance analysis, and providing insightful reporting. The web-based solution streamlines and eliminates up to 90% of manual activities while strengthening internal controls and corporate governance.