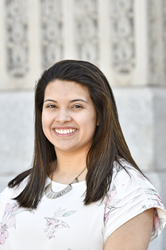 SLCC is an essential piece of the Utah way and its importance and influence are unrivaled.
SALT LAKE CITY (PRWEB) October 21, 2020
Salt Lake Community College is pleased to welcome Silvia Castro and Emily Hernandez Alzamora to the SLCC Board of Trustees. Castro will serve as a representative of the college's Alumni Council and Hernandez Alzamora joins as President of SLCC's Student Association.
Castro is the executive director of the Suazo Business Center and has more than 20 years of experience working with a variety of organizations, including Fortune 500 companies, the State of Utah, Salt Lake City, Salt Lake County, and nonprofits such as the Utah Microenterprise Loan Fund and the Goldman Sachs 10,000 Small Businesses Program. She has also served as the assistant director for the Women's Business Center of Utah and as co-chair of Salt Lake City Mayor Erin Mendenhall's Economic Development Transition Committee. Castro currently serves on the Executive Committee of Envision Utah, the Wasatch Front Regional Council's Economic Development District and the Utah Governor's COVID-19 Economic Taskforce.
"I am grateful to be a part of this esteemed institution's Board of Trustees, and I look forward, with tremendous excitement, to helping lead the college into the future," she said. "The impact of Salt Lake Community College is felt throughout our great State of Utah, as this is the place where hundreds of thousands of people build, and have built, the foundations of their futures. SLCC is an essential piece of the Utah way and its importance and influence are unrivaled."
Hernandez Alzamora is SLCC's Student Association President. She is a first-generation student studying business with plans to continue her education in business and law. A former SLCC Student Ambassador, she has worked with high school students to help them understand the transition to college and learn about scholarships, engagement and leadership opportunities. A 2019 graduate of Murray High School, her goal is to help SLCC students build meaningful connections during their time at the college.
"My hope is that I can build a partnership with resources that the college offers to better serve our students," Hernandez Alzamora said. "I know a lot about SLCC, this knowledge will help me to better give opinions and outside perspectives to the Board of Trustees."
Salt Lake Community College is Utah's largest open-access college, proudly educating the state's most diverse student body in 8 areas of study at 12 locations and online. The majority of SLCC graduates transfer to four-year institutions, and thousands more are trained in direct-to-workforce programs. In 2023, the institution will be celebrate 75 years of providing Utahns with education and training in fields that contribute to the state's vibrant economy and high quality of life.