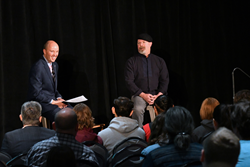 Whatever you're doing out there, you need to put yourself in a situation where you're an active participant.
SALT LAKE CITY (PRWEB) October 17, 2018
Follow through. Be active, not passive, in your education. Diversify. That was just some of the wisdom Jamie Hyneman, of MythBusters fame, shared with more than 300 high school students Tuesday during the Pathways to Professions exhibition, organized in part by Salt Lake Community College in collaboration with the Wasatch Front South Consortium.
The annual showcase, held at the Mountain America Expo Center in Sandy, brings together industry leaders, higher education, secondary education, educators, students and community members for a two-day event geared to align career and technical education (CTE) programs with education pathways to build Utah's workforce. SLCC invited Hyneman to be the event's keynote speaker.
Hyneman is a special effects expert best known as the co-host of MythBusters. Originally created for the Discovery Channel, MythBusters (now on Science Channel) uncovers the truth behind popular myths and legends by mixing scientific method with curiosity, ingenuity and experimentation. Hyneman holds several honorary doctorates and has worked as a certified dive master, boat captain, wilderness survival expert, linguist, pet store owner, animal wrangler, machinist, concrete inspector and chef.
Utah Lt. Gov. Spencer Cox hosted a Q&A with Hyneman, covering his educational journey, early interests during high school and college, successes and failures, special effects and more. "Don't be a passive participant and let things happen to you," he told Cox and the audience. "Whatever you're doing out there, you need to put yourself in a situation where you're an active participant. Experiment. That's being an active participant. You're not just taking something someone told you – you're going out and getting those answers by yourself."
In answering a question from a student about building a resume, Hyneman offered some advice with a bit of humor. "Talk is cheap," he said. "Doing things is another deal. Follow up. Unless they tell you that they hate you or that they don't want to see your face again because you're ugly, you can keep bugging them if you want that job."
These days Hyneman takes great joy in being able to lock himself away in his shop, cranking up the tunes and inventing things. Lately, he has been working on a remote-controlled vehicle with VR technology that can evacuate people trapped by fire.
Salt Lake Community College is Utah's only accredited, student-focused, comprehensive community college. Home to more than 60,000 students each year, the college is Utah's leading provider of workforce development programs and the largest supplier of transfer students to Utah's four-year institutions. SLCC is also a top 10 college nationally for total associate degrees awarded and the leading provider of applied technology courses in the Salt Lake area.