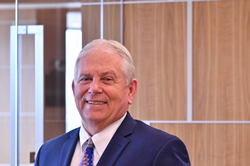 SALT LAKE CITY (PRWEB) April 17, 2019
Salt Lake Community College has named Jay K. Francis and Patricia R. Richards as 2019 Honorary Doctorate recipients. They will receive their degrees at SLCC's May 3 Commencement at the Maverik Center, 3200 S. Decker Lake Drive, West Valley City.
Francis is the executive vice president over Corporate Affairs and Miller Family Philanthropy. Richards is president and CEO of SelectHealth.
Francis studied business and communications at the University of Utah. He started an advertising agency and grew his clientele. After doing some work for the Utah Jazz, he accepted a position as their marketing director. Since then, Francis has held several roles with the Larry H. Miller Group of Companies, including overseeing its real estate arm and corporate public events.
Francis is an avid golfer who helps lead the annual Gail Miller Utah Leadership Cup event, which benefits SLCC students through scholarships.
Richards began her career as a general surgery and trauma nurse at the University of Michigan Medical Center. She followed her nursing studies with a bachelor's degree in communications from the University of Toledo, where she also earned a master's in public health care administration.
During her time at SelectHealth, the company has been chosen eight times as "highest in member satisfaction" by JD Power and Associates. Richards was also named as Utah Business magazine's 2013 CEO of the Year and appeared in the magazine's 2018 list of Women of the Year. Before joining SelectHealth in 2009, she served as executive vice president and chief operating officer of Health Alliance Plan of Michigan.
She served on the SLCC Board of Trustees for five years, and is particularly supportive of efforts to attract minority and first-generation students to SLCC.
Salt Lake Community College is Utah's largest two-year higher education institution. The college is Utah's leading provider of workforce development programs and the largest supplier of transfer students to the state's four-year institutions. SLCC is also a top 10 college nationally for total associate's degrees awarded and the leading provider of applied technology courses in the Salt Lake area.