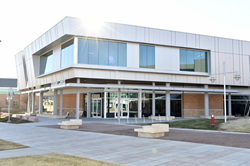 ...our student leaders have been diligent in bringing this idea to fruition and they now have a great facility specifically designed to support the success of our diverse student body.
SALT LAKE CITY (PRWEB) March 17, 2021
This week, Salt Lake Community College is celebrating the official opening of the Tim and Brenda Huval Student Center on the school's Jordan Campus. The 41,000 square-foot building serves as a dynamic hub for student services and is the culmination of more than a decade of effort undertaken by SLCC student leadership.
Shannon McWilliams, interim assistant vice president for SLCC Student Services, says students were the "driving force" for making the new building a reality by using their collective voice and influence to make a change while also gaining hands-on experience. "The conversation of needing a student-friendly gathering space at the Jordan Campus started over 10 years ago," McWilliams says. "Since that time, our student leaders have been diligent in bringing this idea to fruition and they now have a great facility specifically designed to support the success of our diverse student body."
One of the students involved in the early planning of the building was Aynoa Rincon, who now works for SLCC's Office of Diversity and Multicultural Affairs. Rincon was president of the SLCC Student Association (SLCCSA) in 2017-18. Previous to her administration, she recalls students identifying a need at the Jordan Campus for a center that provided more space and more resources. She and other SLCCSA members worked directly with college administrators on building design and floor plans. Rincon also spoke with state lawmakers to gain legislative approval to use money saved up from existing student fees — there was no money set aside or approved to fund the new center — to help pay for the building.
"I hope this space serves students as a shared area to get together, do homework, eat and just create community at that campus," says Rincon. She says her involvement with the center was "life-changing" and that she is grateful students' opinions were included and valued during the decision-making process. "I personally learned how important student government is, specifically when it comes to handling fees and how they can be better utilized in services that will directly benefit students."
The center combines in one space resources that include a bookstore, food services, fitness center, information commons, study areas, a multi-purpose event space, a food pantry, Student Life & Leadership offices, Center for Health and Counseling, a veterans lounge, meditation and lactation rooms, and a childcare center. Students also have access to offices that include Admissions, Financial Aid, Career Services, Orientation and Student Success, Academic Advising and Student Services. It's estimated the center will serve about 4,000 students per semester.
The $17 million building has been named in honor of Tim and Brenda Huval, who in late 2020 made a generous donation to student scholarships, with particular emphasis on students participating in health sciences programs, a specialty at SLCC's Jordan Campus. Tim Huval is an SLCC alumnus and former employee at the college, and the couple has a history of committing time and financial support toward the success of SLCC students.
SLCC has also received support for the new center through the generous donations of Jerry & Edna Taylor, Pamela Nielsen of Pamela Nielsen Contemporary Art, Domo, The Joan & Tim Fenton Foundation, The South Davis Community Hospital Legacy Fund, Jacobsen Construction, The Archer Family Charitable Foundation, The Utah Financial Services Foundation and The Women to Women Foundation.
Salt Lake Community College is Utah's largest open-access college, proudly educating the state's most diverse student body in 8 areas of study at 12 locations and online. The majority of SLCC graduates transfer to four-year institutions, and thousands more are trained in direct-to-workforce programs. In 2023, the institution will celebrate 75 years of providing Utahns with education and training in fields that contribute to the state's vibrant economy and high quality of life.