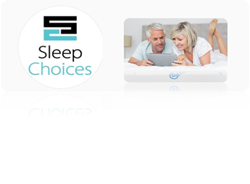 SACRAMENTO, Calif. (PRWEB) March 05, 2019
SleepChoices, a leading mattress product innovator using the latest science and technology to deliver the ultimate sleep experience for consumers, today announced that its equity crowdfunding campaign has launched and is now open and available to the public, including investors of ALL types.
The equity campaign is set to raise up to $1.07M with funds being used to initiate scaling in advertising and support operations for the organization. SleepChoices plans to use 70+% of the capital towards online and offline advertising with the remainder being applied towards campaign related expenses and general working capital.
With statistics now showing that 51% of adults worldwide don't get enough sleep, SleepChoices has developed a suite of technologically advanced products specifically designed to help address this issue. In fact, their product is MUCH MORE THAN JUST LAYERS OF FOAM. What truly sets them apart in an industry full of memory foam style mattresses, is the fact that they not only use cooling solutions to manage body temperature, but they also use a Zoning Technology that directly targets core areas of the body to drive maximum comfort and firmness where needed, and, that relieves pressure & pain – all designed to deliver a deeper more restful sleep as tossing & turning is mitigated. No other mattress product uses this combination of unique design features.
Furthermore, in addition to the SNUZ memory foam mattress, their highly popular flagship product, funds raised from a successful crowdfunding campaign, will allow SleepChoices to develop and launch a hybrid solution, combining traditional mattress coils along with memory foam so consumers who are accustomed to buying a coil spring product can have access to the benefits of memory foam as well.
The crowdfunding campaign is set to run approximately 90 days and provides a variety of incentives to investors who invest at the $500 level, up to the $35,000 level. To learn more about getting started with your investment today visit https://republic.co/sleepchoices.
To learn more about SleepChoices and why they have one of the best mattresses you can buy online, or to purchase any of their latest sleep products visit http://www.sleepchoices.com.
Media Contact:
Kimberley P. Brown
Core Insights 360 PR
kbrown(at)coreinsights360.com
Phone: 470.426.5920