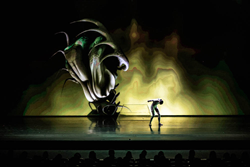 We believe this immersive experience for the audience is the future of performing arts.
(PRWEB) November 19, 2019
Sleeping Beauty Dreams is a revolutionary fusion of visual arts, contemporary dance, lighting, groundbreaking real-time digital technology, and electronic dance music created by a team of international collaborators from all respective industries, the performance unravels the passions, fears, and sinful desires of the Princess during her 100-year slumber.
Having embarked on its US tour earlier this month, Sleeping Beauty Dreams has had successful performances in New York, Chicago, Atlanta, and Boston. The production will play in Dallas and Houston on November 21st and 23rd respectively.
The technological feat is brought to life by production company Magic Reality Group. The company believes in supporting the future of performing arts through immersive, virtual experiences that moves the mind, bodies, and souls of audiences.
The unique production incorporates a mature twist to the old tale known so well worldwide. During the dream-like performance, each dance movement of the Princess is met by eight supporting dancers as well as larger-than-life demon and angel avatars, mimicking their moves. The demons and angel were imagined and visualized by famed digital artist Tobias Gremmler, who has developed design solutions for Apple, Samsung, Swarovski and Sony in addition to working with Bjork.
"Sleeping Beauty Dreams brings the dream realm to life. This is a theatrical experience unlike anything else you can see right now," says Gremmler. "The incorporation of real-time data and revolutionary technology allow us to create digital avatars — also known as the demons and angels — that mimic Sleeping Beauty in her dreamscape. We believe this immersive experience for the audience is the future of performing arts."
Sleeping Beauty Dreams is led by a team of notable industry creatives including choreographer and creative director Edward Clug, and costume designer Jorge Muskus. 4U2C, the Montreal-based creative studio known for its multimedia experiences for live performance, are the engineers behind Sleeping Beauty Dreams, translating Gremmler's creative vision into a world-class experience for audiences.
Taking on the role of the Princess in Dallas and Houston is dancer Mi Deng. Performing alongside Deng is Denis Savin, who will play the role of the Prince.
Sleeping Beauty Dreams dates and venues for Texas:
Dallas
Nov. 21, 2019
The Theatre at Grand Prairie
Houston/Sugar Land
Nov. 23, 2019
Smart Financial Centre at Sugar Land
Sleeping Beauty Dreams was created for the stage by Rem Hess.
MEDIA CONTACT: For photo and video requests, contact Susy Ferrer of RKG Creative, susy@myrockgroup.com
For more information about the performance, visit http://www.sbdart.com, Facebook, YouTube, and Instagram.