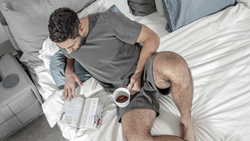 The Equilibrium re-engineered silk sleepwear helps deliver better sleep without the inconveniences of traditional, delicate silk fabric.
WASHINGTON (PRWEB) August 05, 2020
The secret to good sleep is temperature regulation. Learning from the science of sleep, the team at restlab has engineered the Equilibrium Sleep Set -- technical sleepwear to help deliver the perfect night's rest.
To achieve the best in performance and comfort, the Equilibrium is made with re-engineered silk. Using an in-house process, restlab developed a fabric with a highly breathable weave but is also a low conductor of heat. As a result, the Equilibrium provides ventilation, but also helps trap just the right amount of body heat as the wearer's temperature drops through the night -- creating the perfect micro-climate for sleep.
The Equilibrium has also addressed the impracticalities of silk to deliver not just performance and comfort, but also to meet the lifestyle demands of the modern man and woman. Unlike most delicate silk garments, the Equilibrium's re-engineered silk is machine washable. It's also enhanced with stretch so it doesn't restrict movement both in and out of bed. Lastly, it's engineered with a matte finish -- without the shine common to silk fabric -- for a modern and gender-neutral look.
The Equilibrium was initially launched in March as a Kickstarter campaign but was quickly hit by the COVID-19 pandemic. Though the odds were against the team, the Equilibrium ultimately had a small but successful campaign thanks to the support of the Kickstarter community.
Today, restlab is launching the Equilibrium to the general public on its own website – http://www.therestlab.com. Customers can pre-order the Equilibrium at 36% off the normal retail price until the end of August 2020.
About restlab
Sleep is critical to our overall health and well-being. But in today's modern, high-stress society, it often takes the backseat. restlab was founded with the vision of helping people improve their wellbeing through better rest.
Ben and Shirley, the co-founders of restlab, met while developing and launching new products for Fortune 500 companies. Burned out and sleep deprived, they wanted to channel their energy toward creating meaningful products that could help others like them slow down and truly rest. They began work on restlab in 2018, relying on their own savings, angel investors, and grassroots fundraising to get their venture off the ground.