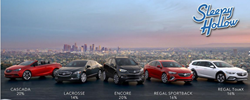 VIROQUA, Wis. (PRWEB) November 28, 2018
There is no better feeling in the world than getting a great deal especially when that deal is on an attractive and accommodating 2018 Buick lineup. Sleepy Hollow has been a part of the La Crosse community since 1989 and it have always been customer-focused in its sales and service. That is why the dealership is offering substantial savings on its inventory of 2018 Buick vehicles as the 2019 models make their way onto the showroom floor.
Five of Buick's most popular models are being offered at up to 20-percent off manufacturer's suggested retail price (MSRP). These models include the Encore, Regal TourX, LaCrosse, Cascada, and Regal Sportback. Both the 2018 Buick Encore and Cascada are available at 20-percent off MSRP while the Regal TourX and Regal Sportback are marked at 16-percent off MSRP and the Buick LaCrosse is offered at 14-percent off MSRP. These are considerable discounts and the selection at Sleepy Hollow Auto won't last long so shoppers should hurry in to secure the savings on the vehicle that they want.
Interested shoppers can also find more information regarding the Buick Encore, LaCrosse, Regal TourX, Regal Sportback, and Cascada at Sleepy Hollow's website, http://www.sleepyhollowauto.com. Sleepy Hollow's website can also provide shoppers with convenient online finance tools as well which can give them an estimate of their current vehicle's trade-in value as well as allow them to apply for safe and secure credit approval. These finance tools help customers reduce the amount of time spent at the dealership working out the details of their 2018 Buick vehicle purchase and will hopefully save the customer time and money.
Customers who have questions regarding the discounted 2018 Buicks at Sleepy Hollow Auto can have them answered by a friendly Sleepy Hollow staff member at 1225 N. Main Street or by calling 855-632-8089.