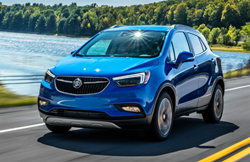 VIROQUA, Wis. (PRWEB) August 29, 2019
Anyone in the La Crosse and Viroqua areas who has been waiting for a good deal to come along before making the final decision to go ahead and purchase a new vehicle will want to make note of what is happening at Sleepy Hollow Auto, as the dealership is slashing prices on select 2019 models.
Sleepy Hollow Auto specializes in selling new automobiles from Chevrolet, Buick, GMC, Ford, Chrysler, Dodge, Jeep and Ram. Those looking for a General Motors vehicle may be pleased to know that Sleepy Hollow Auto is offering discounts of up to $10,000 off the Manufacturer's Suggested Retail Price (MSRP) for select 2019 Chevrolet Silverado pickup trucks. The Silverado has garnered a reputation over the years as a tough and reliable truck for tackling numerous tough tasks. Another mighty pickup truck offered at a discount at Sleepy Hollow Auto is the 2019 GMC Sierra 1500, which customers can receive for as much as 20 percent below the MSRP.
For those who appreciate the finer things in life, the dealership is also offering discounts of up to 23 percent off the MSRP of certain 2019 Buick Encore models. The Buick Encore is the entry into the lineup of Buick crossover and SUV models, providing a surprising amount of space and capability in a subcompact package. It's full of the kinds of comfort and amenities for which Buick is well known, and it can be driven home at a reduced price during this sale.
For questions about the offers mentioned here or any other offers provided by the dealership, interested parties can call 855-632-8089 or visit http://www.sleepyhollowauto.com. Sleepy Hollow Auto has three locations in Viroqua, Wis., and while the company specializes in new vehicles, it also has a selection of pre-owned models as well as a service center and car rental offices.