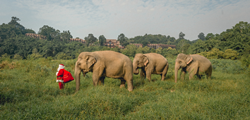 Donations for these one-of-a-kind gift experiences support essential conservation efforts in The Golden Triangle.
THE GOLDEN TRIANGLE, Thailand (PRWEB) November 24, 2020
Anantara Golden Triangle Elephant Camp & Resort is honored to help Santa spread festive joy around the globe this holiday season with a little help from some very big friends. The world-renowned luxury resort and Asia's premier elephant camp is partnering with the Golden Triangle Asian Elephant Foundation (GTAEF) to launch a one-of-a-kind holiday gift delivery from "Santa & His Eles", Zooming live from their natural habitat in Northern Thailand's ancient jungle; supporting elephant conservation efforts and offering three-tons of holiday cheer.
With only a limited number of call slots available during the holidays, reservations require $2,500 USD donation to Zoom with St. Nick and the elephants for twenty minutes on Christmas Eve or Day, or New Year's Eve or Day. During this special video call, adults and kids can ask Santa questions about these gentle giants and virtually participate in unique, once-in-a-lifetime elephant experiences, including the resort's 'Walking With Giants' signature experience that provides the optimum way of getting to know the elephants and developing a deeper emotional connection with them.
Championing the natural joy of daily free-roaming time, accompanied by their mahouts (elephant caregivers) and either an elephant veterinarian or biologist, the activity offers insights from scientific experts about how these intelligent creatures think and behave as well as their social interactions in their native habitat. The fun of watching them enjoy a river bath or mud playtime demonstrates just how cheeky these surprisingly graceful animals can be.
All tax-deductible donations (US & Canada only) will ensure that GTAEF can continue to care for Asian elephants.
The resort is world famous for its elephant camp that, along with the GTAEF, was set up in 2003 to help rescue elephants being used as street entertainment. Twenty-three elephants, along with their entire mahout families, now live happily in the protected jungle on the border between Thailand, Laos and Myanmar, otherwise known as 'The Golden Triangle'.
Additional gift giving options for your elephant-loving family & friends include:

$20 USD donation to feed one elephant for one day
$110 USD donation to support the work of critical anti-poaching rangers for one week
$200 USD donation for a fifteen minute "elephant trunk call" outside of key holidays
$600 USD donation to feed one of the resort's beloved three-ton beauties for one month
$18,000 USD 'rescue donation', which fully supports one of the three elephants rescued this year due to COVID-19 for an entire year; monthly updates and pictures of your sponsored elephant will be provided
All donors and gift recipients receive a personalized e-certificate as a memento of their once-in-lifetime charitable experience.
John Roberts, Anantara Hotels, Resorts & Spas' Group Director of Sustainability & Conservation, said that the almost total disappearance of tourism throughout Thailand due to COVID-19 continues to have a negative effect on the Kingdom's 3,800 odd captive elephants.
"Their caregivers still need to find at least $20 USD per day just to feed their elephant, let alone their own family, and meet all their other needs – elephants consume between six and ten percent of their body weight daily, and it costs approximately $18,000 USD a year to look after a single elephant. Since the start of the national lockdown in Thailand in March, we have taken in three elephants and their mahouts. The COVID-19 elephant refugees, whose camps were unable to care for them and would ultimately have left them unfriended and unfed, are now matched with friendship groups and, of course, have their own diet plan", said Roberts.
Donors can support one of the resort's elephant adoptees – Boon Rod, Kam Mool and Thong Inn for one year by making a tax-deductible (USA & Canada) $18,000 USD donation and receive monthly updates on the life and wellbeing of their well-nourished Asian elephant.
For Zoom video call bookings with Santa & the Eles, or to support the elephants at another giving level, please contact Mr. John Roberts, Anantara's Group Director of Sustainability & Conservation, jroberts@anantara.com or GTAEF at helpingelephants.org/contact-us/.
Unfolding across 160 acres of Northern Thailand's mystical ancient jungle, Anantara Golden Triangle Elephant Camp & Resort is perched on a hill overlooking the Mekong and Ruak rivers. The secluded location is exclusively positioned to take in majestic three country views over the confluence of Thailand, Laos and Myanmar, and grazing elephants in the most stunning of natural settings below. Rates start from $1,158++ USD per Deluxe Three Country View room per night for two people on all-inclusive basis.
For more information or to make a room reservation, please visit https://www.anantara.com/en/golden-triangle-chiang-rai/offers or contact Anantara Golden Triangle Elephant Camp & Resort on email goldentriangle@anantara.com or telephone 053 784 084.
-ends-
Editor's Notes:
Anantara is a luxury hospitality brand for modern travelers, connecting them to genuine places, people and stories through personal experiences, and providing heartfelt hospitality in the world's most exciting destinations. The collection of distinct, thoughtfully designed luxury hotels and resorts provides a window through which to journey into invigorating new territory, curating personal travel experiences.
From cosmopolitan cities to desert sands to lush islands, Anantara connects travelers to the indigenous, grounds them in authentic luxury, and hosts them with passionate expertise. The portfolio currently boasts over 35 stunning hotel and properties located in Thailand, the Maldives, Indonesia, Vietnam, China, Cambodia, Sri Lanka, Mozambique, Zambia, the UAE, Qatar, Oman and Portugal, with a pipeline of future properties across Asia, the Indian Ocean, Middle East, Africa and South America.
For more information on Anantara Hotels, Resorts & Spas, please visit http://www.anantara.com.
Follow us on Facebook: http://www.facebook.com/anantara; Twitter and Instagram: @anantara_hotels