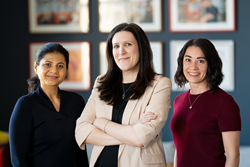 NEW YORK (PRWEB) February 28, 2020
Slice, the technology platform dedicated to connecting pizza lovers with authentic, independent pizzerias, today announced three new additions to its executive leadership team: Paula-Jo (PJ) Oleksak as Chief Business Officer, Preethy Vaidyanathan as Chief Product Officer, and Jacqueline (Jac) Meyer as Chief People Officer. All three additions to the team are coming to the company from leadership roles in other well-established tech startups.
PJ Oleksak joins Slice from FreshDirect, an on-demand grocery delivery business, where she was its Chief Growth Officer. As well as acting as its CGO, this role also saw Oleksak launch FoodKick by FreshDirect as its President. In these dual roles, she was responsible for all consumer revenue generation, e-commerce, analytics, and customer service. Before FreshDirect, Oleksak spent five years working in private equity at PineBridge Investments, and was also an Investment Banking Analyst at Harris Williams. She holds a BS in Finance and Accounting from the University of Richmond, summa cum laude.
As Chief Business Officer, Oleksak will oversee Slice's revenue, operations, customer service, and go-to-market, across all of its consumer and restaurant products.
Preethy Vaidyanathan joins Slice from Tapad, a startup that develops and markets software and services for cross-device advertising and content delivery. As Tapad's Chief Product Officer, she led product strategy that helped transform the company from media services to a SaaS leader that connects brands to consumers across devices. Prior to Tapad, Preethy successfully led product teams at AppNexus, Medialets, Vibrant Media, McAfee, and Efficient Frontier. Preethy holds a MSc in Computer Science from the University of California.
As Chief Product Officer, Preethy will be responsible for product strategy and execution, across all of Slice's consumer and restaurant products.
Jac Meyer joins Slice from Plated, a meal-kit service, where she was VP, People with accountability for all aspects of the People team including culture and engagement, recruiting, on-boarding, benefits, compensation, business partners, ER, learning, and development. Prior to Plated, Meyer spent eight years in HR leadership roles at Tapestry, a house of brands including Coach, Stuart Weitzman, and Kate Spade. Meyer holds a BSc in Business Administration from Georgetown University.
As Chief People Officer, Meyer will oversee all aspects of Slice's People team including recruiting, onboarding, HR operations, employee relations, benefits, compensation, and learning and development.
"We're thrilled to welcome PJ, Preethy, and Jac to Slice," said Ilir Sela, founder and CEO, Slice. "They all bring extensive experience and leadership at burgeoning tech startups, which will prove invaluable in Slice's next stage of growth."
"I'm a lover of food, lover of people, and a lover of data," said Oleksak. "Slice is crushing it in all of these areas and I'm thrilled to be here. I'm really excited to help evolve this business, strengthen our value proposition, and execute on our vision and strategy."
"Ilir has created such a strong vision and mission of empowering local pizzerias," said Vaidyanathan. "In keeping with this mission, I look forward to leading this motivated product team in creating products that delight consumers and pizzerias and drive business value."
"I could tell from my first visits to the New York office that Slice was a special place with talented people," said Meyer. "I believe people are the most important asset in any business and I'm excited to get to know and support all Slice's teams across Macedonia, NY, and Belfast."
About Slice
Slice is the only technology platform dedicated to connecting independent pizzerias with pizza lovers nationwide. It empowers local pizzerias with the tech, data, and marketing tools they need to compete with the big chains, and to better serve their digitally-minded customers. As well as its flagship digital and mobile ordering systems, Slice offers personalized marketing and operational tools to help pizzerias grow and manage their business. Slice is a privately held company headquartered in New York. For more information, please visit Slicelife.com or download the Slice iOS or Android app.
Twitter: https://twitter.com/slice
LinkedIn: https://www.linkedin.com/company/mypizza
Facebook: https://www.facebook.com/SlicePizzaApp/
Instagram: https://instagram.com/slice