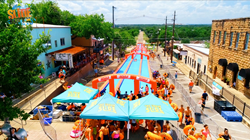 MARBLE FALLS, Texas (PRWEB) June 08, 2021
The Marble Falls / Lake LBJ Chamber of Commerce and CVB today announced the return of Slide into Marble Falls. The event will take place June 19 and 20, allowing riders to coast down tubes through the middle of Downtown Marble Falls. The 1,000-foot padded inflatable slip-n-slide will have three lanes running down the middle of the Downtown shops and restaurants from Third & Main to Third & Ave. L.
"This is our second year doing Slide into Marble Falls and after missing last year, we're excited for the event's return to Downtown. This time, we added an extra day to enjoy the festivities," said Jarrod Metzgar, Executive Director of the Marble Falls Chamber of Commerce and CVB. "Marble Falls remains a popular destination for locals and visitors looking to enjoy time together outdoors, and we want to build on the fun activities happening Downtown. Our summer programming got off to a great start with Mayfest and Summer Market on Main, and Slide into Marble Falls will continue that momentum by helping riders cool off and beat the Texas summer heat."
Taking place over Father's Day weekend, the family-friendly event starts Saturday, June 19 at 10:00 a.m. and runs until 10:00 p.m. that same day. On Sunday, June 20, riders will be able to take part in the fun from 12:00 p.m. to 8:00 p.m. The assorted shops Downtown will also be open to patrons looking for food, drinks and shopping, with plenty of restaurants located within viewing distance of the slide.
An all-day pass for either day can be purchased for $40, or riders can save $5 with a two-day pass. Riders can also register for two-hour "wave" time slots for $20, or cut lines with a Slide Fast Pass for an additional $10 (quantities limited). Riders must be at least five years old and 46 inches tall to make it onto the padded slide.
Visitors should not attend the event if experiencing a fever or any other symptoms associated with Covid-19, or if they have been exposed to anyone who tested positive for Covid-19 leading up to the event.
Tickets can be purchased at SlideIntoMarbleFalls.com.
About Marble Falls Chamber of Commerce
The Marble Falls Chamber of Commerce is a non-profit that makes much of its funding from large events. Our mission at the Marble Falls Chamber of Commerce is to support local businesses through education, networking, and tourism promotion through citywide events. For information on alternative events and future fundraising efforts, please visit https://www.marblefalls.org/.
About Marble Falls
Marble Falls is a small Texas town in the Highland Lakes region of the Texas Hill Country. Founded in 1887, its first settlers took advantage of nearby Granite Mountain and the Colorado River to build an economy at the turn of the century, with the town's population exploding in the decade after its founding. In 1917, Marble Falls became the first Texas town to elect a woman as Mayor, and Ophelia Crosby "Birdie" Harwood took office 3 years before women's suffrage was established in the United States. The town remained relatively sleepy until the end of World War II, when a boom in population doubled the town's size. Growth continued at a steady clip until the present, when Marble Falls retains its "small town" status without sacrificing the amenities and luxuries of a larger, more cosmopolitan city.
Links:
http://www.Marblefalls.org
https://www.facebook.com/MarbleFallsCoC
https://fb.me/e/2byD48slw
http://www.SlideintoMarbleFalls.com