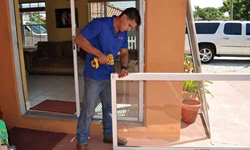 Our market research conducted this spring indicated that Miami residents are especially sophisticated online and they want an information page specific to their city
Miami Florida (PRWEB) May 17, 2017
May 17, 2017 -Miami, Florida
Express Glass Repair & Board Up, Miami's sliding glass door repair experts, are proud to announce a new, dualistic strategy of local content and service-line content for Miami's sophisticated residents. The two intertwined pages focus on the city of Miami, on the one hand, and on the specific needs of sliding glass door repairs, on the other.
"Our market research conducted this spring indicated that Miami residents are especially sophisticated online and they want an information page specific to their city plus the type of specialized knowledge to showcase why we are a professional choice for sliding glass door repair," explained Yaniet Santos, General Manager of GDR. "That's why we created a new, dualistic approach to information on glass repair."
The trick to see this in action is to first visit the Miami page at http://www.expressglassfl.com/miami-glass-window-repair/. Second, on that page, click the website link to the sliding glass information page at http://www.expressglassfl.com/home-window-repair/sliding-glass-door-repair/. Whereas competitive websites are either localized or industry-specific, by cross-linking these page to each other, Express Glass & Board Up is showing a new industry leadership position for summer, 2017. People can have their Miami-specific information page, and a page just about their specific needs.
Sliding Glass Door Repair Can be Shipped Straight to the Door in Miami, Florida
Lines between the virtual world and real life have become more difficult to separate in the past few years. Not only can a Miami local shop online for clothing, many sites may show models offering exact measurements to virtually try on an outfit. After a choice is made, the final order can be shipped directly to the door. Busy Florida locals may be using the same concept to order dinner or purchase furniture. Before the order can be placed, buyers may have already reviewed how the products will look in the virtual world.
Because of easy access and step-by-step support, many Miami Florida locals may expect the same treatment for emergency sliding glass door repair.
For this reason, Express Glass & Board Up, a professional service for glass replacement for homes or businesses has announced a new blending of online support with real world glass repair services specific to the city. Miami locals searching for answers to sliding glass door repair problems have access to virtual tools and information. Unlike a new dress or meal, glass repair cannot be shipped to the door, but a skilled technician can. The new interwoven web pages also offer easy access to call-in service. In a short time, an expert sliding glass door repair technician can show up on the doorstep. Virtual shopping has become a great convenience to many Miami residents. If it is finally time to order the real thing, sliding glass door repair can be delivered directly to Miami's doors.
About Express Glass Repair and Board Up
Express Glass and Board Up Service Inc. is a family owned and operated glass repair business with more than 20 years of experience. Professional technicians and the large variety of inventory make Express Glass the top glass repair service. If customers are looking for West Palm Beach window glass repair as well as glass repair in Delray Beach or Miami glass repair, please reach out to the company for a free estimate. If customers need a 24/7 Sliding Glass Door repair service in West Palm Beach or Boca Raton or Miramar, technicians are standing by. The company specializes in sliding glass door repair and window glass repair; technicians will handle any glass replacement situation efficiently. Home or business glass repair is the company's main priority.
Express Glass Repair and Board up
http://www.expressglassfl.com/