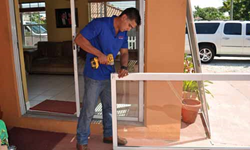 "Yes, we are a business, but our commitment to community service is a big part of our mission statement
West Palm Beach, Florida (PRWEB) November 21, 2016
Express Glass and Board Up of West Palm Beach, Florida, is proud to announce three new informational blogs for October 2017. The company has been recognized as a leader in the glass repair service sector for West Palm Beach and surrounding Palm Beach county. The company is announcing three new blogs with tips and advice for handling broken windows and sliding glass door repair before the issue becomes a dangerous emergency.
"Yes, we are a business, but our commitment to community service is a big part of our mission statement," commented Yaniet Santos, general manager at Express Glass. "That's why we like to blog about glass repair issues that are important for the West Palm Beach community to know. In October, we posted three informative blog posts, and we're excited to publicize them to a wider audience."
To view the company's blog, including the new posts, visit http://www.expressglassfl.com/blog/. Note that it may be necessary to scroll down for the October, West Palm Beach posts as the company posts very frequently to its blog!
Damage Control in West Palm Beach: Sliding Glass Door Repair Prep
The Florida community may be used to preparing for possible disasters on a regular basis. Seasonal hurricanes occur yearly causing damage to many coastline cities such as West Palm Beach. Other types of emergencies particular to the Florida region can happen as well. Alligators live alongside neighborhoods and will hunt wandering dogs and cats. Rip currents claim the lives of unaware swimmers each year. Florida can be a beautiful and exciting place to live, but locals should be aware of the possible dangers and plan in advance. One dangerous emergency can be shattered glass in a home or business. Planning for sliding glass door repair can be a smart way to handle damage control.
Express Glass, glass repair and replacement experts have announced three new blog posts for October 2017. The posts highlight normal sliding glass door repair issues and how Florida locals can prepare for an emergency. The three blog posts are as follows:
1. "Sliding glass door repair vs. yacht repair: How to set priorities"
2. "Commercial Glass Repair: The importance of quick sliding glass door repair before serving customers"
3. " Emergency Glass Repair: How to evaluate older sliding glass doors for possible repair before an accident occurs"
Preparedness in West Palm Beach can be the best way to avoid a dangerous broken glass accident. Express Glass supports West Palm Beach residents with tips and advice for damage control.
About Express Glass Repair and Board Up
Express Glass and Board Up Service Inc. is a family owned and operated glass repair business with more than 20 years of experience. Their professional technicians and the large variety of inventory make Express Glass the top glass repair service. If customers are looking for Miami sliding glass door repair or Ft. Lauderdale glass repair as well as glass repair in West Palm Beach, please reach out to the company for a free estimate. If customers need a 24/7 Sliding Glass Door repair service in Miami or Boca Raton or Miramar, technicians are standing by. The company specializes in sliding glass door repair and window glass repair; technicians will handle any glass replacement situation efficiently. Home or business glass repair is the company's main priority.
Express Glass Repair and Board up
http://www.expressglassfl.com/