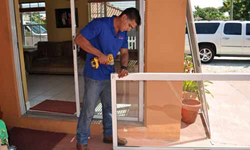 Even a mild hurricane can do significant damage to glass windows and doors, especially sliding glass doors
West Palm Beach, Florida (PRWEB) August 31, 2017
August 31, 2017 West Palm Beach, Florida
Express Glass and Board Up, a leading sliding glass door repair service in West Palm Beach at http://www.expressglassfl.com/west-palm-beach-glass-window-repair/, is proud to announce an important blog post on hurricane preparedness for West Palm Beach residents. The current hurricane season, unfortunately, is anticipated to be a tough one for South Florida.
"Even a mild hurricane can do significant damage to glass windows and doors, especially sliding glass doors," explained Yani Santos, general manager of Express Glass. "Our timely post highlights the importance of hurricane preparedness for West Palm Beach residents, especially vis-a-vis their home windows and sliding glass doors. New so-called hurricane resistant glass is an innovation worth considering."
To review the new blog post on West Palm Beach hurricane preparedness, visit http://www.expressglassfl.com/blog/board-up-services/hurricanes-west-palm-beach-board-services/. Residents, journalists, and bloggers are also encouraged to visit the company's hurricane preparedness page at http://www.expressglassfl.com/hurricane-preparedness/. Those seeking sliding glass door upgrades to new, modern, hurricane-resistant standards are urged to reach out for an estimate now, while there is still time to prepare for any potential hurricanes.
West Palm Beach Sliding Glass Repair and Hurricane Preparedness
A sliding glass door is a modern convenience that people take for granted. As recently as the 1920s, wide open glass spaces in houses were very uncommon, not to mention doors made out of glass that "slid" across the floor. The first innovative wave, therefore, was the deployment of sliding glass doors across cities as diverse as West Palm Beach, Ft. Lauderdale, and West Palm Beach. Hurricanes, however, can wreak havoc with sliding glass doors as the force of hurricane winds can literally shatter the glass. New innovations such as laminated or so-called "hurricane glass," however, have made stronger glass windows and doors, including sliding glass doors, possible. For further details on hurricane preparedness and the possible need to upgrade one's sliding glass doors, please read the blog post in its entirety.
About Express Glass and Board Up
Express Glass and Board Up Service Inc. is a family owned and operated glass repair business with more than 20 years of experience. Their professional technicians and the large variety of inventory make Express Glass the top glass repair service. If customers are looking for West Palm Beach glass repair or Ft. Lauderdale glass repair as well as glass repair in Delray Beach or West Palm Beach sliding glass repair, please reach out to the company for a free estimate. If customers need a 24/7 Sliding Glass Door repair service in Ft. Lauderdale or Boca Raton or Miramar, technicians are standing by. The company specializes in sliding glass door repair and window glass repair; technicians will handle any glass replacement situation efficiently. Home or business glass repair is the company's main priority.
Express Glass Repair and Board up
http://www.expressglassfl.com/