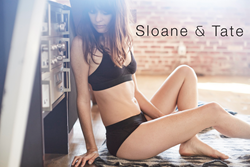 Los Angeles, CA (PRWEB) May 02, 2017
Sloane & Tate, the Los Angeles based women's underwear line, announced that it is leaving the wholesale scene in favor of establishing a more rewarding experience for its loyal customers by selling direct. The company, which prides itself on offering underwear that empowers its wearers and produces all of its pieces locally in Los Angeles, will sell exclusively on its own website sloaneandtate.com.
"We are thrilled to offer our customers more competitive pricing by selling to them directly," says Sloane & Tate Founder and CEO, Eliza Ladensohn. "Their enthusiasm and support for the brand inspires us to keep pushing the boundaries and improving. It is an honor to have such incredible people as our customers and we want to be able to reach an even broader market."
Sloane & Tate has been designing women's underwear with a menswear inspired aesthetic since 2009. It encourages its wearers to "Break the Rules" and "Don't Follow the Crowd." The line is comprised of ethereal cotton boy shorts, briefs, bralettes, layering tanks and tees. Sloane & Tate is more than just a first layer, it is an act of self-expression for those who want to go out and create what they imagine and believe is possible.
ABOUT SLOANE & TATE
Sloane & Tate is an LA based women's underwear line that is redefining, reinventing and reimagining women's underwear with an androgynous bent. The line offers a range of Supima cotton-based bras, briefs, tanks and tees informed by a minimalist aesthetic. To learn more about the company or to book an interview, contact Eliza Ladensohn at contact(at)sloaneandtate(dot)com, visit the website at sloaneandtate.com, or follow @sloaneandtate.
###