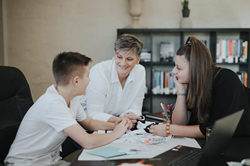 "This is a time to pause, to reset, and if you are a product entrepreneur, a time to give life to your dreams."
SEATTLE (PRWEB) June 12, 2020
Lou George, a native New Zealander living in Australia, has always had an entrepreneurial spirit. She has owned a family daycare, run a small business, and renovated investment properties. Now, the entrepreneurial mother of 5 has been inspired for a new product idea by her two youngest children. She was having regular discussions about the pandemic with her kids, when her son brought up anxiety children were having because of Covid-19. Together Lou and her two young co-developers thought up a "calming feel-good, product" that allows children to self-soothe with the sense of touch, bringing a feeling of familiarity, safety, love and protection when the lights go out.
Lou gets training and guidance from Product Development Academy, a US based program that formerly brought students to China but has relaunched to be completely online. Lou and the other students learn from Steven Selikoff, the founder of Product Development Academy, serial product entrepreneur, former business manager at Microsoft, and champion for everyday people bringing unique products to life.
Lou is targeting the end of the year for product launch. Although the details of Lou's product line cannot be released due to intellectual property considerations, she is already testing prototypes with great responses from her children and their friends. The children love the products, and their parents love the relaxation and calming it brings to their kids.
"Steven has been actively involved in mentoring me and helping me avoid pitfalls. I'm learning a lifetime of skills I can pass to my children." Lou said.
Another of Steven's students, Carol, knows the benefits of expert mentorship firsthand. Carol launched her first product in December of 2019 and is joining the classes from Florida as she refines and expands her product line. Because of her product's uniqueness, it was hard for Carol to anticipate the demand. She needn't have worried. Sales of her product have exceeded her expectations. Carol attributes her success to her training with Steven.
"Steven's emphasis on knowing your customer and their pain points really resonated with me," Carol said.
As a member of the sandwich generation, Carol cares for both her 85-year-old mother and her 15-year-old special needs son. Her empathy and insight into the struggles of modern caregivers inspired her to create her product in the elder care space. She can happily report that she has sold over 1,000 units in just the first two months online. Carol's dream is to sell primarily through retailers, which is a specialty of Product Development Academy.
Amish immigrated to the United States from India in pursuit of a better life. Now, he works as a healthcare professional in one of the best hospitals in the United States. These days Amish is caught up in the daily rigors of the pandemic. However, a year ago, Amish attended the Canton Fair in Guangzhou, China, with Steven.
"The Canton Fair gave me the chance to dream big about where I can be in the next 5 years, not where I am currently," Amish said. "Freedom to do what I really want is the greatest motivation for me,"
Amish stated that shadowing Steven during live negotiations with Chinese vendors was a highlight of his trip to the Canton Fair.
"It was great to see how he was trying to build win-win relationships," Amish said.
Based on what he learned, Amish launched several products and boosted his sales by three times in 2019. That same personal attention is available to entrepreneurs across the globe.
Since the Product Development Academy is now purely online, travelling to China is no longer required and anyone can get the same experience Amish enjoyed.
Steven created the Product Development Academy to train and mentor entrepreneurs like Amish, Carol, Lou, and others. He revels in the supportive family atmosphere of the group and gets visibly emotional when he talks about his students successes.
"I am the luckiest person ever," says Selikoff. "I love every one of my students. The products they are creating can change lives. Their customers lives, and their own lives too."
Like his students, Selikoff has made good use of the Covid-19 slowdown time too. In addition to selling his own products, and running the Product Development Academy, Selikoff has written and released a huge 514 page book, based on the training program and full of useful actionable information for product entrepreneurs.
The book, The COMPLETE BOOK of Product Design, Development, Manufacturing, and Sales, is available on Amazon in both paperback and Kindle formats.
"I realize that not everybody can afford the Product Development Academy," says Selikoff. "This book is an affordable way for anybody with a dream of creating a unique product and putting it on retailer's shelves, to learn how to do that on their own."
Affordable is an understatement. Selikoff is running monthly free download days for the kindle version. And it is already free for anyone enrolled in the Kindle Unlimited program.
"Now with the program available online without travelling to China, it's an opportunity for anyone," Selikoff points out. "People are spending a lot of time in their homes. They see products every day that can be improved. They are facing problems every day that can be solved with solutions that could help others too. This is a time to pause, to reset, and if you are a product entrepreneur, a time to give life to your dreams."
If you have children with inspiring ideas, like Lou George; if you see need within your family, like Carol; or if you are building a dream of freedom to do whatever you want, like Amish; developing a product, manufacturing it, and bringing it to market has never been easier.