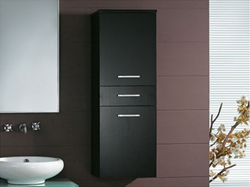 Making the most of a small bathroom is about thinking unconventionally: building vertically rather than horizontally, and building into a wall rather than onto it.
(PRWEB) February 07, 2014
HomeThangs.com – the Online Home Improvement Store – has made their goal to deliver the right product to the consumer. With that in mind, shopping and home design tips, as well as special product selections are being introduced.
The conversation about small bathroom storage often starts and ends with choosing the right bathroom vanity. But while a bathroom vanity will occupy most of the real estate in a small bathroom, the best, most innovative storage options work even where there isn't obvious space too spare. HomeThangs.com has introduced a guide to a few fresh storage options that will work in even the smallest bathrooms.
Making the most of a small bathroom means building vertically rather than horizontally. Adding a conventional storage cabinet is great in slightly larger bathrooms, but will often crowd and overwhelm an already tight layout. Instead, look for wall mounted storage cabinets. These are the gems of small bathroom storage, as they can mount on any wall, at any height, and in any number, offering a decent amount of storage but taking up no floor space and protruding only very little into the room itself.
Medicine cabinets are one of the all-time go-to options for adding storage to bathrooms of all sizes, and they certainly have their place. But even in very small bathrooms, medicine cabinets are rarely installed directly over the bathroom vanity; they're usually stuck onto the adjacent wall. If the main mirror is just a mirror, that space is wasted. Instead, opt for a decorative bathroom mirror with built in storage – like cabinets, towel bars, toothbrush holders, or even just a simple ledge – to add functionality and flair to the vanity area without sacrificing any space.
The wall above the toilet is basically the ideal place to add extra storage because it's an area that's typically unused and within arm's reach of the bathroom vanity. But large, hutch-style over toilet storage is almost always a nuisance. To make the most the most of the space, choose a wall mounted over-john cabinet instead, and hang it high enough that it won't bump the head of the tallest person that will be using the toilet.
Shelves are another conventional option for a small bathroom, but they aren't a good one – they protrude from the walls, reducing the size of the bathroom, and can wind up looking cluttered. So instead of building onto the wall, build into the wall. Bumping in a small square or rectangle of the wall between studs and tiling creates a clean, elegant, artistic look and actually adds practical, usable space to the bathroom. And because they're flush to the wall, it's possible to add several without taking up any extra space.
Often the tiled niches found on the walls or in the shower are fairly small, but this type of mini-expansion is really only limited by the distance between wall studs – they can be as tall as a full-sized cabinet. This technique works especially well in odd spaces that would normally be closed off and unusable (like at the head or foot of a tub or shower or alongside the toilet) where the wall is a little thicker and can be converted into surprisingly deep recessed shelves.
Finally, it's becoming more and more popular for homeowners to go above and beyond the conventional bathroom vanity and have something custom built – as small as a single vanity or as large as an entire wall. This option is definitely more time and money intensive, but has a great seamless look and affords complete control over the type and placement of storage in the bathroom.
For more ideas on how to maximize storage in a small bathroom, check out the full article here.
HomeThangs.com is not only a home improvement superstore, it also provides expert design tips and a comprehensive shopping guide, taking the ideas from professional interior designers, and offering tips to the consumers on how to pick the products to best suit their needs.