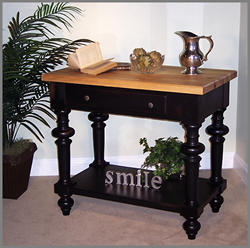 By using a little bit of space in the middle of a small, square kitchen, an island creates a workstation that serves the entire kitchen without getting in the way.
(PRWEB) February 13, 2014
HomeThangs.com – the Online Home Improvement Store has made their goal to deliver the right product to the consumer. With that in mind, shopping and home design tips, as well as special product selections are being introduced.
People with very small kitchens tend to overlook or dismiss the idea of adding a kitchen island. After all, if there already isn't much space to spare, there certainly isn't room for a large piece of furniture. But kitchen islands don't have to be the big, sprawling affairs often featured on home improvement shows. HomeThangs.com has introduced a guide to using a well placed, petite kitchen island to improve the usability of a small kitchen.
While big, sprawling kitchen islands are a popular facet of luxury kitchens, they do come in more compact sizes and a variety of shapes. Choosing one that's small enough and the right shape is crucial to making this look work in a smaller space. A very thin console-style table will serve a long, narrow kitchen well, while a small round or square table that's easier to walk around will work better in a square kitchen.
Lack of counter space is a huge issue in smaller kitchens, and adding a kitchen island is one of the only ways to address the problem short of a major renovation. Even a very small one will add at least two extra feet of counter space, and many are topped with butcher blocks that act as a convenient, built-in cutting board.
Small kitchen islands can also add cabinet and drawer space – for the smallest versions, about the equivalent of one standard cabinet box, which can help make up for a lack of pantry space. And many come with other unique features, like built in spice racks, shelves, or hooks or bars for pot holders or towels, all of which can help keep the most oft-used items close at hand and clear up space and clutter elsewhere in the kitchen.
Placing a small kitchen island in the center of a square or L shaped kitchen will make the space feel much larger rather than crowding it. By using a little bit of space in the middle, an island creates a workstation that serves the entire kitchen – a midpoint in the work triangle that's perfect for prep, serving, or just setting down items while moving from one part of the kitchen to the other. And because the island itself is small, it's easy to walk around.
Larger kitchens often highlight the island by painting it a different color than the cabinets. This works in a smaller kitchen, too. A white kitchen island contrasted with wood cabinets can make the space feel brighter, while other colors - like black, red, green, or blue – make a nice accent and coordinate well with other features and fixtures to give the kitchen a sense of unity.
HomeThangs.com is not only a home improvement superstore, it also provides expert design tips and a comprehensive shopping guide, taking the ideas from professional interior designers, and offering tips to the consumers on how to pick the products to best suit their needs.