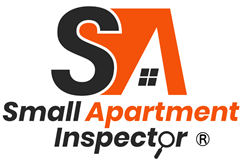 "Be prepared. Use Small Apartment Inspector Mobile App to create leverage. Leverage your time and resources for inspections and maintenance. Reduce the chances of getting sucker punched by expenses that come out of nowhere," said Cordell Davenport the creator of the app.
OAKLAND, Calif. (PRWEB) March 09, 2021
The outbreak of Covid-19 has made a huge negative impact on almost all industries including real estate. As the industry looks to get back on track, the role of technology has become paramount for all real estate industry stakeholders. Small Apartment Inspector is a just launched mobile application that is making lives easier for the smaller owners and operators in these troubled times. Available in Google Play as well as the App Store, this app has been created to address the inspection and maintenance needs of small apartment owners and managers.
Real estate has always been a paper-heavy industry. Therefore, when the economy shut down, there was a scramble to set up remote workforces. Paperless transactions became critical and as there was no option to go into the office and pull files or save paper documents. Over the last one year, there has been an increasing trend of taking everything online including meetings, leasing, site visits, etc.
The transition to an online work culture was relatively smoother for the larger players in the industry. However, this journey was a challenging one for the small apartment owners and managers. Unfortunately, the smaller owners and operators with less than 50 units have always been neglected in terms of access to necessary technology tools. This is where the new app Small Apartment Inspector comes in.
Inspections and maintenance have always been two serious problems for small apartment managers and owners because of the following shortcomings.

Unreliable contractors
No technology implemented to leverage time
No preventative maintenance checklist
No systems to follow
The Small Apartment Inspector app was designed with care to provide small apartment owners with evidence to find and document the facts. Some of the critical inspections that can be carried out using the app include

Building exterior checklist
Preventative maintenance checklist
Preventative maintenance questionnaire
Tenant move in/out checklist/report
Make unit ready checklist
Yearly unit inspection checklist
Some of other important capabilities of the app are as summarized below.

Makes prompt repairs and security deposit refunds
Collects more damage charges from tenants
Sends instant reports with time stamped photos of the damages to owner/manager
Standardizes unit and property data to document conditions
Speeds up and saves on unit turn
Emails tenants the move in/out form they agree with by having their electronic signature
Provides security deposit refunds quicker to tenants
Assigns per item repair/replacement costs associated with each item
Reduces debate on any issues by taking pictures with tenant and management signatures of approval
All data is backed up in the cloud and is accessible 24/7
Provides comparison reports with photographic evidence
Provides final account statements to residents after moving out
Reduces the number of disputes by providing comparison reports with side-by-side photo evidence
Small Apartment Inspector is now available for download in App Store and Google Play. The app is priced at $9.99 per month/property. For each added user, there is an additional cost of $4.99.
As an introductory offer, 21 days of free trial is available now for the earliest users.
To register today and enjoy the free trial, please visit
http://www.SmallApartmentInspector.com
About Small Apartment Inspector: Small Apartment Inspector is a mobile application that helps small apartment managers, with easy and efficient inspections and maintenance. The app is currently available in App Store and Google Play.