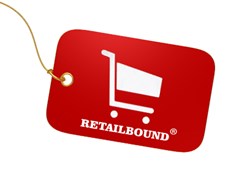 "If you've ever wondered how to sell to Wal-Mart – you need Retailbound," said Yohan Jacob, President of Retailbound.
Chicago, IL (PRWEB) November 07, 2013
The retail marketing consultants at Retailbound today announced they now are helping small businesses and entrepreneurs nationwide who need assistance selling their new products to retailers. Consumer product manufacturers, such as consumer electronics companies, sporting goods companies, household goods companies and others, who require guidance selling their new products to retailers will benefit from Retailbound's retail consulting, retail coaching and outsourced marketing services. As a retail readiness coach, the company helps small businesses determine if they are retail-ready, instruct them on how to price their new product and how to manage their retail marketing. The retail marketing consultant company's staff has more than 20 years of experience successfully placing new consumer products and consumer electronics in the top online and brick-and-mortar stores nationwide. The initial consultation with Retailbound is free. Connect with Retailbound on Twitter or Like them on Facebook.
"If you've ever wondered how to sell to Wal-Mart – you need Retailbound," said Yohan Jacob, President of Retailbound. "We can help your small business break into the retail major leagues and get your products on the store shelves of a big box retailer. If you've been searching for retail experts or a retail guru – we're it. When it comes to marketing your products to retailers, we eliminate the guess work of what to do next by providing affordable, flat-fee outsourced product marketing and merchandising services."
Unlike other retail marketing consultants, Retailbound maintains a dynamic, close partnership with each client to develop a professional, customized and highly successful retail marketing or merchandising program – and the company's seasoned executives have experience on both sides of the retail buyer's desk. This gives Retailbound an advantage over other retail marketing consultants.
"We've helped hundreds of vendors sell and market products to all types of retail outlets and we're excited to help more small businesses, start-ups and entrepreneurs," continued Jacob. "We've found the key issue with most small manufacturers in retail is all they care about is sell-in, but what they should be more concerned about is sell-through – and that's where Retailbound can help," concluded Jacob.
Visit http://www.retailbound.com for more information or to get started with a free initial consultation.
Media Contact
Ria Romano, Partner
RPR Public Relations, Inc.
Tel. 786-290-6413