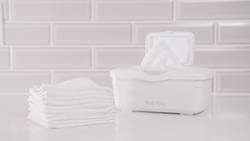 SANTA FE, N.M. (PRWEB) March 31, 2020
Final, the company behind FinalStraw, is excited to announce its second product, FinalWipe—a multipurpose reusable wipe made from soft, highly absorbent, antimicrobial material.
"At Final, our mission is to create reusable, responsibly made products that reduce waste and solve a problem for our customers," said Emma Rose Cohen, CEO and Founder of Final. "As the world changed around us the team sought to move forward with an innovative solution that was relevant and create FinalWipe, an item that we believed would make lives better."
FinalWipe, designed to replace single-use sanitizing wipes, paper towels, paper napkins, and more, launches on Kickstarter today. The reusable wipes will be made from bamboo, infused with antimicrobial silver ions, and can be used wet or dry. Each kit will include CleanTabs—effervescent tablets that create a sanitizing solution when combined with water. Soak a FinalWipe in the solution to watch it become a reusable alternative to single-use sanitizing wipes. CleanTab eliminates the cost and environmental impact of shipping water-based cleaning solutions across the globe.
Available in two sizes, an aesthetically-pleasing counter container for in-home use or a convenient travel case created for on-the-go cleaning. The travel case has three compartments: one to hold clean wipes, one to hold used wipes, and one with a spray nozzle to hold the CleanTab solution.
Americans toss 51,000 trees worth of paper towels and flush approximately 270,000 trees daily. It's time to stop flushing our forests and sanitize sustainably. FinalWipe is available on Kickstarter starting at $20. The campaign runs through May 15, 2020.
About Final:
The Final Co. LLC, DBA Final, launched FinalStraw, the world's first reusable, collapsible straw, on Kickstarter in 2018. Final is on a mission to create reusable, responsibly made products that reduce the need for single-use products, empower individuals to change their buying habits, and raise awareness about the impacts of our everyday decisions.
©2020 The Final Co. LLC. All rights reserved. Final's products and all Final logos, trademarks, and images are the property of The Final Co. LLC.