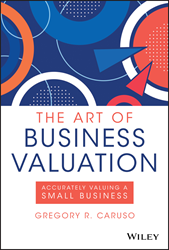 "If you want to be paid for highly for your business, prove it. In other words, business buyers pay for what exists. An apple seed has the potential to be an apple tree. But no one pays for the tree when they are getting the seed." That is business value in business sale transactions. p.325
PRINCETON, N.J. (PRWEB) September 23, 2020
This quote captures a business valuation truth. Valuing and growing a small business requires the proper application of professional judgment combined with business valuation methodologies and techniques. True in "normal" times, it is even more important now, in the shadow of COVID-19.
While there are many books on the market about business valuation, nearly all of them focus on medium- to large-sized companies. However, according to the latest census data, nearly 96.5% of businesses have revenues under $10 million. By focusing on micro and small businesses, The Art of Business Valuation, Accurately Valuing A Small Business provides a one-of-a-kind resource to business analysts, advisors and business owners. Simple and detailed technical business valuation methods and topics are covered, as well as full chapters on building business value, exit planning, and going through a market sale.
"Small business owners are under unbelievable stress from COVID-19-related economic issues, ranging from product shortages to downsizing to complete closures. Yet, outside of a few unfortunate hard-hit industries and locations, good businesses and good businesspeople will persevere and survive. As business valuators, our job is to apply valuation methods along with professional judgment to properly assess a business' value and assist owners in growing that value, particularly in times of uncertainty," said Greg Caruso, author.
The book is perfect for both new and experienced business valuators (CVA, ASA, ABV), certified public accountants (CPA), business advisors, business owners, small business attorneys and business brokers. The Art of Business Valuation, Accurately Valuing a Small Business was written to help anyone who hopes to gain a clearer picture of the financial value of a small business, reduce the risk involved in a merger or acquisition and increase their business value.
About the Author: Gregory R. Caruso, JD, CPA, CVA, is a Partner at Harvest Business, LLC. His unconventional career path gives him a unique perspective on, and expertise in, business valuation. Having served as a business valuator with 100's of small business, a business broker responsible for 60+ transactions, a real estate broker for 30+ years, a transactional attorney, and a serial business owner, he understands the topic from a variety of viewpoints. He also serves as Editor-In-Chief of Around the Valuation World, the National Association of Certified Valuators and Analysts' monthly business valuation continuing education webinar. Greg is available for interviews and can be reached at gcaruso@harvestbusiness.com.
Reviewer Quotes: More Reviewer Quotes are on the Website
"Greg Caruso guides both the small business owner and valuator in understanding the nuances of valuing a small business, from record-keeping and financial reporting differences to the due diligence required. Greg also successfully interprets complex valuation theories for the novice. The Art of Business Valuation is a worthy addition to any valuation library."
— Roger J. Grabowski, FASA
Managing Director, Duff & Phelps
"The Art of Business Valuation" focuses on small and micro business valuation (businesses under $10 million in revenues) in a way few if any other business valuation books do. Emphasis is placed on both the professional judgment and the technical aspects of business valuation. As such, it is a valuable resource that should be in the libraries of all business valuators and people who rely on business valuations."
— Chris Mercer, FASA, CFA, ABAR
Founder, Mercer Capital
"For valuators, entrepreneurs, and business owners of small companies looking to build the value of their largest asset…their business, this is the manual. Greg walks through how to value, what to focus on in understanding value and how to communicate it in this book. It is the prefect CEO companion to your future."
— Mel H Abraham, CPA, CVA, ASA
Author, #1 National Bestseller, The Entrepreneur's Solution
Click for more author quotes on Small Business Valuation, Growing Small Business Value, and Buying or Selling a Micro or Small Business.
For more information on the book, go to http://www.theartofbusinessvaluation.com.
Publisher – Wiley ISBN: 978-1-119-60599-7