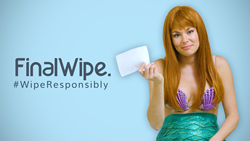 SANTA FE, N.M. (PRWEB) April 03, 2020
In the midst of challenges presented by the Covid-19 pandemic, Final, a small female-led company sought a relevant, mission-based solution to declining sales. The team found hope for the future as they launched a new product called FinalWipe—a multipurpose reusable wipe made from soft, highly absorbent, antimicrobial material.
At a time when sanitation and limited resources are a concern, Final was inspired to find a solution for the future. The team decided it was the right moment to pivot and find a way to make a difference.
Final launched FinalWipe on Kickstarter on March 31 and gained immediate traction. The project was fully funded, at $50,000, in less than eight hours. It went on to raise an additional $30,000, for a total of $80,000, by the end of the first day.
"As we watched this global crisis unfold, I turned to my team to find a solution that would resonate with the community and also stay true to our mission as a company, " said Emma Rose Cohen, CEO and Founder of Final. "FinalWipe is a product that was born in response to current issues and will have a place in the sustainable world for years to come."
Final has several additional products slated for release in 2020.
About Final:
The Final Co. LLC, DBA Final, launched FinalStraw, the world's first reusable, collapsible straw, on Kickstarter in 2018. Final is on a mission to create reusable, responsibly made products that reduce the need for single-use products, empower individuals to change their buying habits, and raise awareness about the impacts of our everyday decisions.
©2020 The Final Co. LLC. All rights reserved. Final's products and all Final logos, trademarks, and images are the property of The Final Co. LLC.